4th of July Events in Rockford
The Rockford region is home to numerous events that celebrate our country's independence! Sit back and watch a colorful parade at several locations, listen to some fantastic live music, or grab a lawn chair to awe at the various spectacular fireworks displays. Whatever you're looking to do, there are plenty of ways to celebrate the good ole' Red White and Blue in the area!
4th of July Events
Durand 4th of July Festival
July 3 - 5
Durand Center Square
Spend a couple days Durand celebrating the 4th of July! There are fun events happening including kids' rides, games, live music, outhouse races, and more.
ComEd Independence Day Spectacular
July 3  |  8 p.m.
Starlight Theatre at Rock Valley College
Celebrate our country's independence with the Rockford Symphony Orchestra. Enjoy an evening under the stars with a concert of patriotic favorites, and a fireworks show.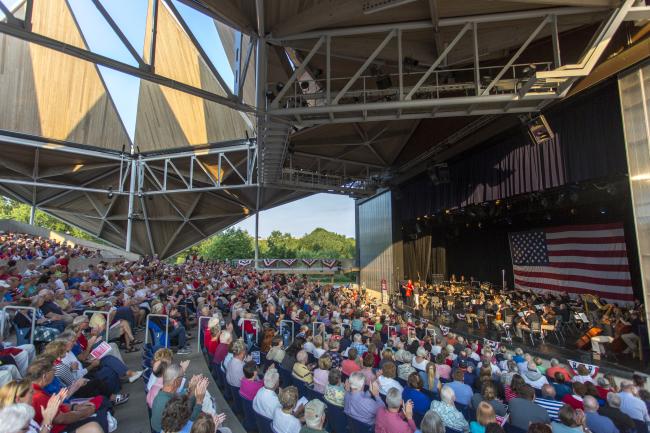 NASCAR Racing and Fireworks Extravaganza
July 3  |  7:27 p.m.
Rockford Speedway
The highlight of the 4th of July is the terrific fireworks display, plus the Midnight Ride of Paul Revere.

Lifescape 4th of July Classic
July 4  |  7 a.m.
Downtown Rockford (Trolley Station)
The Lifescape 4th of July Classic (formerly known as the MELD/YSN Classic, is in memory of Joe Marino and his contributions to Rockford's 4th of July celebration and to our community.

4th of July in Cherry Valley
July 4  |  1 p.m.
Cherry Valley Village Hall
The annual 4th of July Patriotic "Anything with Wheels" Parade will start at Village Hall at 1:00pm. Decorate your bike or anything on wheels and arrive at 12:45 p.m. to line up for the parade. Fireworks will be displayed after dusk from Baumann Park.

Downtown Rockford 4th of July Parade and Skyconcert Fireworks Spectacular
July 4  |  5 p.m.
Downtown Rockford
The 56th annual Rockford 4th of July Parade starts promptly at 5 p.m. from 7th Street and 6th Avenue. The parade proceeds west on State Street, crosses the bridge, and ends at Chestnut and Winnebago Streets. At 9:30pm 5,000 shells from all over the world will be ignited in a 30 minute fireworks show synchronized to music. 
4th of July Blogs
June 27, 2019

Although this summer started with some chilly weather, the Rockford region is finally starting to

June 27, 2017

Where did June go?? I blinked and all of a sudden, we're coming up to 4th of July festivities in the…

June 28, 2016

It's that time again! Each year (at least for the past two years...) I write a Fourth of July Cheat Sheet…