Perhaps you have heard about, seen or even completed the Rockford Sculpture Walk which highlights thirteen new sculptures in the Rockford area; but, did you know Rockford has TWO self-guided excursions to admire the art Rockford has to offer? The Rockford Sculpture Walk and the Public Art Walking Tour are perfect ways to spend a beautiful summer day with friends or family. I recently completed both tours with a few friends and had a blast! These are a few of my favorite public art pieces from my adventure:
Rockford Sculpture Walk
This tour consists of thirteen sculptures installed earlier this summer making Rockford their home for the next two years. These sculptures were created by artists all over the Midwest from Illinois, to Wisconsin, Michigan and Missouri. While they are all unique and striking, five sculptures caught my eye!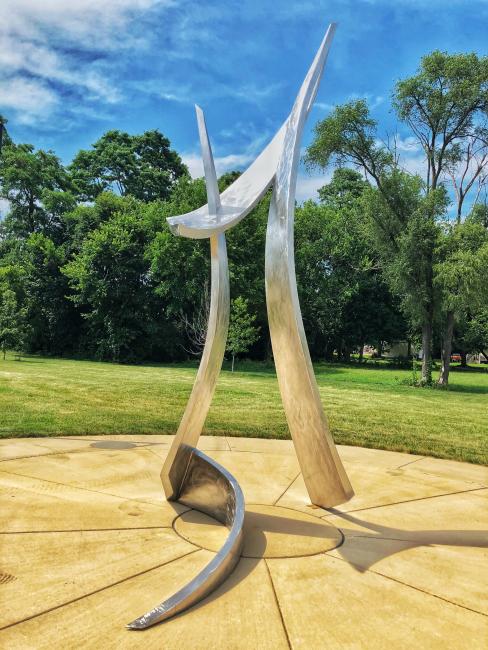 1.  Tall Ship II
The moment I looked at Tall Ship II, I felt drawn to it. While this sculpture is rather secluded from the others on this tour, it is worth the walk or drive! While I do not consider myself to be an art connoisseur (not even a little bit), I liked the clean lines and the sculpture's shiny, silver material. When I found out the artist, Bruce Niemi, was from Kenosha, Wisconsin (where I attend Carthage College), I liked the sculpture even more! Location: Corner of W State St. and N Avon St.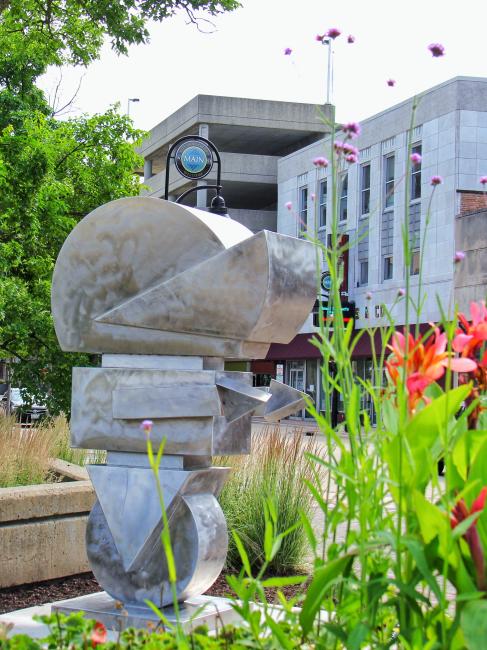 2.  Urban Moai Figure
This little guy was fun to visit. Urban Moai Figure by artist Andrew Arvenetes is one of a kind. I think he looks like a little robot, but others may believe he looks more like a soldier. That is one of the awesome concepts about art – everyone sees it a little differently. I am also drawn to this sculpture because it is silver and shiny just like Tall Ship II. Location: corner of N Main St. and Mulberry St.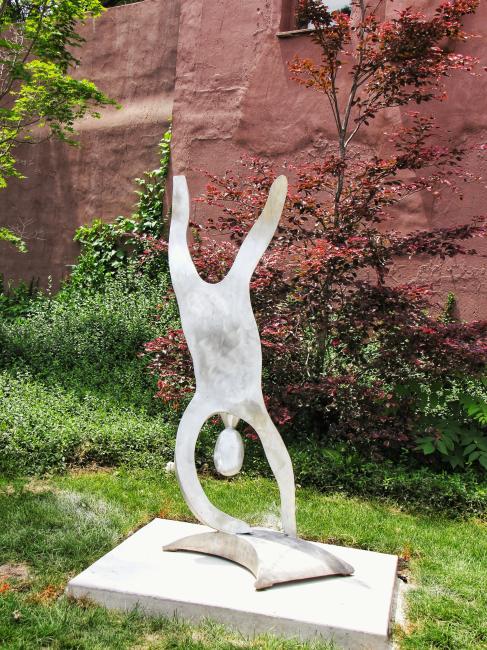 3.  Heels Over Head
Sitting kitty-corner from the Rockford Art Deli is Heels Over Head by sculptor Paul Bobrowitz. His reverse rendition of the popular phrase "head over heels" is in the perfect location on the grounds of Eddie Green Place. My friends and I were able to relax at the blue tables while enjoying the cool artwork. Naturally, Heels Over Head is also shiny and silver. I think I sense a trend forming. Location: corner of E State St. and N 1st St.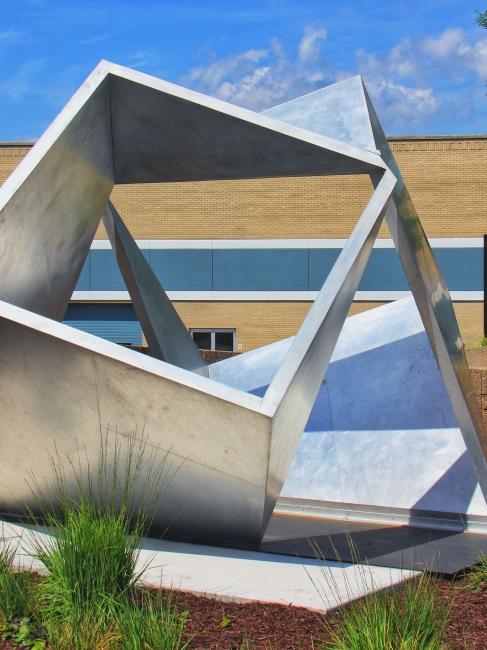 4.  Two Cubes
This giant sculpture welcomes visitors to the downtown region. With beautiful flowers growing all around, the sculpture sets the tone for the following stretch of East State Street scattered with overflowing planters lining the road. The sculpture, by Christopher Newman, reminds me of two giant, silver, shiny windows. I like this sculpture because it looks completely different from every angle. Location: corner of E State St. and N 3rd St.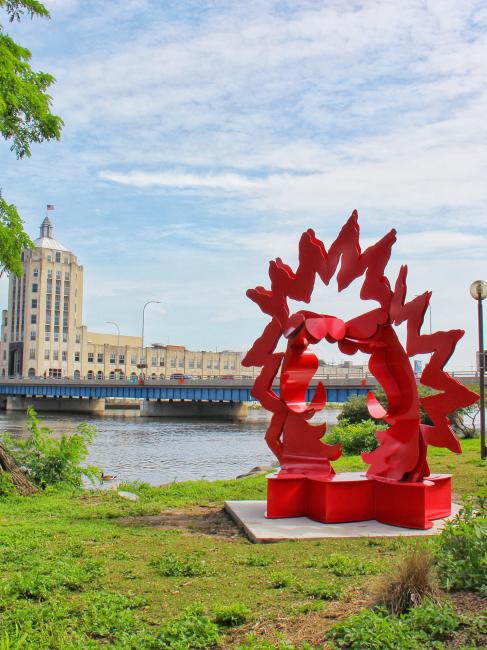 5.  Flappers
I know what you're thinking, and no, this sculpture is not silver! However, it is one of my favorites! I love how big and bright it is and how I can see it walking down the East State Street Bridge. Located on the banks of the Rock River, it is a picturesque place for a beautiful sculpture. I can understand why this piece by Ruth Aizuss Migdal is called Flappers. I think it looks like two little mice dancing. Location: W Bank River Walk
Public Art Walking Tour 
The sculptures and murals that make up the Public Art Walking Tour decorate the Sinnissippi Bike Path and Nicholas Conservatory and Gardens. The sixteen public art pieces provide art for the community to enjoy, contemplate and explore. I connected with five of these art pieces that I can remember visiting from my childhood or saw for the first time.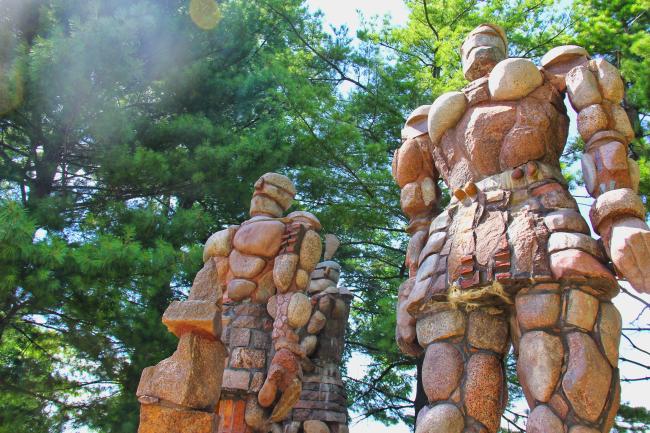 1.  Rock Men Guardians (Artist: Terese Agnew)
I love the Rock Men Guardians because they are a staple from my childhood. I can remember walking down the bike path to the Rock Men with my family when I was a kid. Besides the fact that they bring back fond memories, they are just super cool! These Rock Men came together over the course of two years in 1987. Location: S end of Sinnissippi Bike Path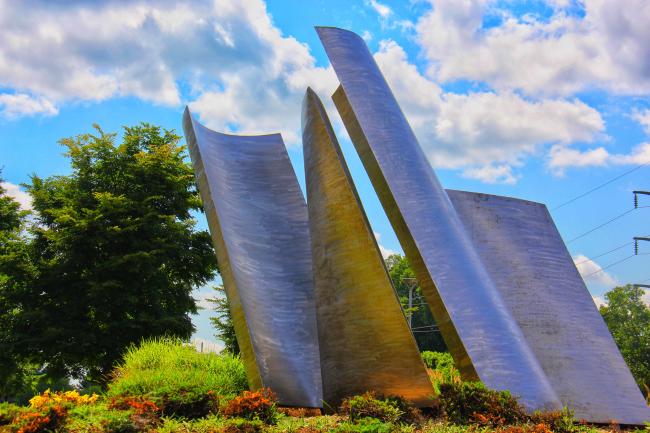 2.  Suspended Motion (Artist: Gene Horvath)
Welcoming you to the Rock River, bike path and Nicholas Conservatory stands the next sculpture. The silver and shiny trend is back as this sculpture fits both characteristics. The sculpture is called Suspended Motion and reminds me of a wave that is frozen in time. Location: SW corner of N 2nd St. and Ethel Ave.
3.  Wild Flower (Artist: Jerry Peart)
This sculpture celebrates the thriving tropical conservatory right here in Rockford. The bright, vibrant colors and twisting shape looks like a flower growing toward the sunlight. Wild Flower sits at the entrance to the Nicholas Conservatory and Gardens surrounded by flowers and a stone pathway. Location: Nicholas Conservatory and Gardens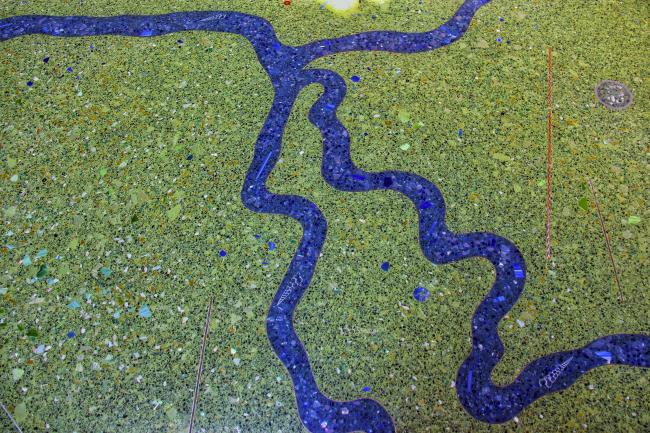 4.  River Within and Rock River Influences (Artists: Linda Beaumont and William Hueg)
The Nicholas Conservatory and Gardens has been a wonderful addition to the Rockford area. While the River Within and Rock River Influences are technically two separate art pieces, together they create an experience to recognize your city pride. The River Within grabbed my attention as soon as we came through the door. A terrazzo mosaic covers the floor and depicts the system of rivers that join together throughout the state of Illinois. The floor shimmers and is speckled with iridescent glass, mirror chips, beads and shells. The Rock River Influences mural illustrates some of the major landmarks in the Rockford area. As I was looking around the room, I had an overflowing feeling of pride for my city. Location: inside Nicholas Conservatory and Gardens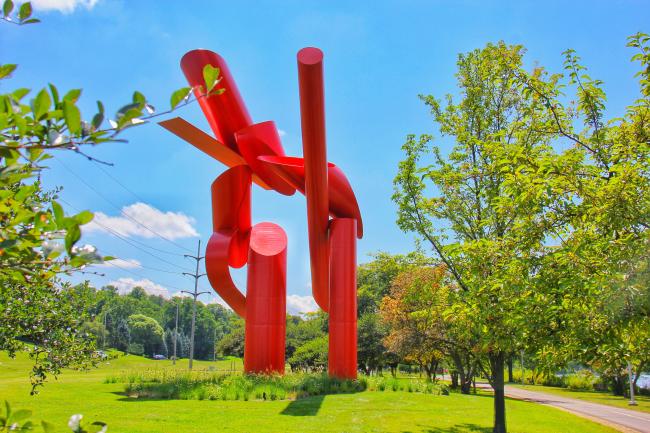 5.  Symbol (Artist: Alexander Liberman)
Symbol is a Rockford staple. A classic work of art that has graced the banks of the Rock River since 1984.  When I see Symbol, I instinctually think of Rockford. I have always thought Symbol looked like a warrior holding a sword, but I'm sure everyone has a different idea of what Symbol resembles. I hope this iconic piece of art will remain for years and years to come. Location: along the Rock River Recreation path, S of the Auburn St. Bridge
Getting some exercise, enjoying the outdoors and supporting public art in our community is the perfect way to spend my Saturday morning! As an added incentive, if you visit and take a selfie with all thirteen sculptures on the Rockford Sculpture Walk before September 30, 2018, bring your photos to the Rockford Area Convention & Visitors Bureau office for a free Rockford t-shirt!
For more information and maps of the Rockford Sculpture Walk or Public Art Walking Tour, visit https://www.gorockford.com/things-to-do/public-art/