Hello Phantom Regiment! Knowing free time is limited, we took out your need to research and compiled a list of local "phan" favorites for Regiment members and their family to explore, dine, and enjoy throughout your time in the Rockford Region! 
Experience Holiday Magic in the Rockford Region
The Rockford region is a magical destination for the holiday season, where enchantment and joy abound. As the winter chill sets in, the city comes alive with a dazzling display of holiday lights, transforming the streets into a twinkling wonderland. The following events will keep you in the holiday spirit during your time in the Rockford region.
Festival of Lights | Sinnissippi Park, 1401 N Second St
For 34 years, the Festival of Lights at Sinnissippi Park has been a must-visit for visitors and locals alike. What started with just 11 displays has now bloomed into an astounding collection of over 85 dazzling exhibits! These displays are lovingly created by local individuals, community organizations, or businesses. You won't want to miss this spectacular drive-through Christmas light display. Check out the Festival of Lights from 5-11 p.m.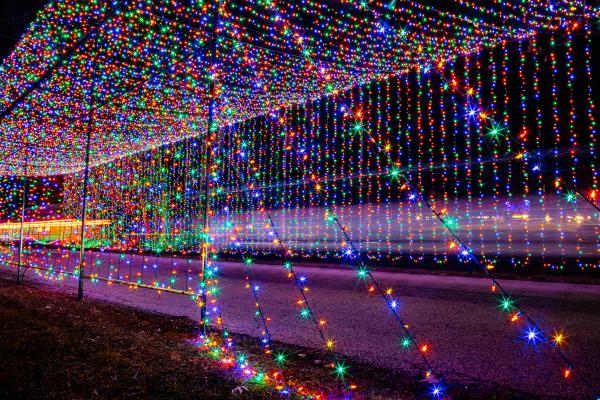 All Aglow | Nicholas Conservatory & Gardens, 1354 N 2nd St
Experience the holiday magic at Nicholas Conservatory & Gardens! Wander through the outdoor gardens and be transported to a world of sparkling lights. Among the familiar favorites of trees and shrubs adorned with twinkling lights, there are delightful new surprises awaiting your discovery. All Aglow is a free event open to the public.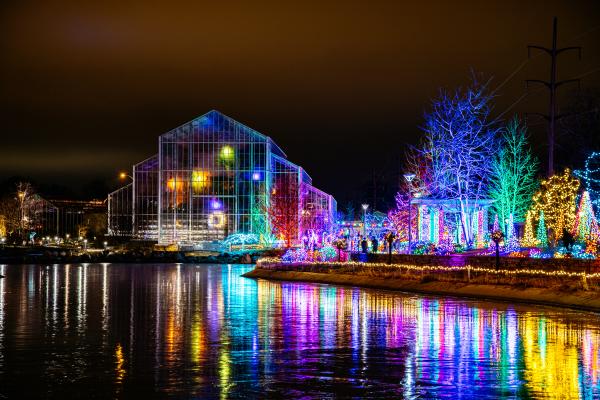 Illuminated at Anderson Japanese Gardens | 318 Spring Creek Road
Step into a world of enchantment at Anderson Gardens' wintertime display, Illuminated! Marvel at the captivating display of dramatic up-lighting and thousands of twinkling white string lights, weaving their magic through the garden's landscape. Catch the beautiful displays at Illuminated from 5-8:30 p.m.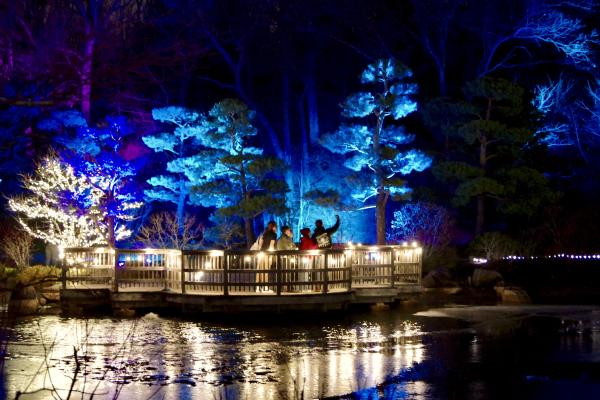 Other Fun Activities & Attractions
815 Escape | 4249 E. State St.
815 Escape offers three different themed rooms with varying levels of difficulty, allowing groups to test their puzzle-solving skills. They offer an experience that is bound to bring groups closer together and create everlasting memories! 
Tilted 10 | 7200 Harrison Ave.
Tilted 10, inside Cherryvale Mall, offers glow-in-the-dark mini golf, bowling, laser tag, bumper cars, and a two-story arcade. Engage in friendly competition with friends and family, play classic arcade games such as skee-ball or dominate your siblings in laser tag!
Rock Cut State Park | 7223 West Lane Rd.
This 3,000-acre State Park offers visitors a tranquil place to enjoy nature. Take a hike around roughly 40 miles of free trails circling two lakes. Visitors can also rent a kayak, canoe, or paddle board to take their adventure onto the water! During the winter months at Rock Cut cross-country skis and snowshoes are made available for purchase through the concession located at the Camp Store. 
Rockford Public Art Trail
The Rockford Public Art Trail is a digital passport that contains a collection of over 100 public art pieces that call the Rockford region home. Check out your favorite murals, sculptures, memorials and learn more about the stories behind your favorite art pieces in the region. Each check-in at an art piece will earn you 100 points towards cool prizes. Sign up here to begin exploring public art. 
Where to Dine
Rockford Pizza Hop 
The Rockford Pizza Hop will take you on a flavorful journey through some of the best pizzerias and breweries in the region. The digital passport allows customers to visit one of the participating businesses on the passport and earn points while delving themselves through Rockford's culinary scene. Sign up here to begin your culinary journey through the Rockford region. 
Prairie St. Brewhouse | 200 Prairie St
Craft brews and gorgeous views are two perfect reasons to visit Prairie St. Brewery! Stop by this historic brewery for an amazing meal and great company. Also part on the Rockford Pizza Hop.
Ernie's Midtown Pub | 1025 5th Ave. 
Searching for your new go-to spot for food and drinks with friends? You'll feel right home at Ernie's Midtown Pub. Ernie's serves up delicious food and craft drinks in a warm and inviting atmosphere. Step back in time when pubs were just pubs. No frills, no fuss - just a neighborhood bar doing it right.
The Norwegian | 1402 N. Main St.
The Norwegian offers brunch with a Nordic twist, and new dinner item(s) are created every week. The Norwegian is also a live music venue. 
The Top Lounge & Rooftop Deck at Embassy Suites | 416 S. Main St.
The Top Lounge & Rooftop Deck, located on the 12th floor of the Embassy Suites by Hilton Rockford Riverfront hotel, provides outstanding views of downtown Rockford and the Rock River. Enjoy tapas styled shared plates paired with unique mixologist inspired cocktails and beverages.

Baker Street Burgers | 1603 N Alpine Rd
This quaint restaurant is located within the Edgebrook Shopping Centre. They offer handcrafted cocktails, juicy burgers, and the perfect atmosphere for a chill family meal.
Ambiance Cuisine Cocktails & Catering | 307 S. Main St
Chef Tisha's Modernized Creole Soul Cuisine, paired with signature cocktails. Chef Craig's desserts. Some of the best mac and cheese in Rockford. Voted Best Catering, Best Southern Cuisine, Best home cooking and Vegan food in Rockford. Located center in the center of Rockford's newly renovated Downtown. It's within distance from several downtown staples like the Coronado Performing Arts Center, BMO Center, UW Health Sports Factory and the beautiful Embassy Suites Hotel.
Lino's | 5611 E. State St.
Come Home to Lino's for great food and great music. Lino's is a long-standing Rockford Italian eatery with lots of atmosphere. Full menu of pasta, pizza, veal, chicken and fish with nightly specials. Lino's is also on the Rockford Pizza Hop. 
Mexico Clasico | 3929 Broadway
The food at Mexico Clasico is a blend of traditional recipes, using fresh tortillas and guacamole that's prepared table-side. The menu features quesadillas, chimichangas, tacos, enchiladas, burritos, fajitas and several house specialties.
Social Charcuterie Bar & Cocktails | 509 E State St
Previously known as Social Urban Bar & Restaurant, Social Charcuterie offers a unique dining experience. Groups create their own charcuterie board using the "sushi menu" style of ordering. Check off the meats, cheeses, breads, and condiments you'd like from their menu, and pair those choices with one of their 45 cocktails – 32 of which are original creations!
SALT | 6860 Spring Creek Rd.
SALT is a restaurant and bar featuring unmatched customer experience, exquisite mixology, and culinary artistry. Come watch the master chef create food as art served on a canvas of white quartz tabletops. 
GreenFire Restaurant, Bar & Bakery | 6795 E. Riverside Blvd
A bakery and fine dining restaurant all in one, GreenFire's natural and fresh ingredients will leave diners wanting more. Their freshly baked desserts are the best way to finish out a meal, and paired with the perfect cocktail, guests won't leave disappointed.
Franchesco's Ristorante | 7128 Spring Creek Rd.
Founded in 1986, Franchesco's has been providing the Rockford Region with an innovative fine dining experience for almost 40 years. Their dedication to serving high quality, homemade dishes keep guests wanting more! Also on the Rockford Pizza Hop. 
JMK Nippon | 2551 N. Perryville Rd.
JMK Nippon specializes in authentic Japanese cuisine. Enjoy dinner and a show with their grill side seating or relax in their gorgeous dining room with their café style seating! Their wide variety of high-quality sushi allow diners to explore their taste buds, and knowledgeable staff members are willing to offer suggestions for guest who aren't sure where to start. 
Beef A Roo | Various Locations 
Local chain with themed restaurants with sandwiches, cheddar fries, soups, salads, shakes, baked potatoes.
Uncle Nick's | 918 E. State St. & 5404 E. State St.
Serving the best gyros since 1980, specializing in Greek foods, open late, 7 days a week.
Where To Shop
Rocktown Adventures | 313 N. Madison St.
Rocktown Adventures is a specialty outdoor retailer and adventure club that exists to inspire you to take on new challenges and give you the tools to live an active outdoor lifestyle. 
Rockford Art Deli | 402 N. Main St. 
Rockford Art Deli is creative collective, located in downtown Rockford, helping business owners with marketing and screen printing needs through a smorgasbord of delectable art and web design, urban graphic design and screen printing – everything from tee shirts to posters.
Culture Shock Clothing & Records | 2239 Charles St.
Culture Shock was born in 2006 as a midwest shop to find all-things-unique inspired by music, arts, and culture. Throughout the years, it has evolved into the local headquarters for locally-made/independent-made merchandise and clothing, funky gifts and accessories, kitschy housewares, and best of all Vinyl Records.
Edgebrook Shops | 1639 N Alpine Rd.
Find a unique blend of eclectic local boutique shops including Roxy Carmichael Boutique and grab a bite from a wide variety of local restaurants including Baker Street Burgers and Lucha Cantina while shopping in the Edgebrook plaza. 
Forest Plaza | 6125 E. State St.
Forest Plaza contains over 30 stores, including Kohl's, Marshall's, Dick's Sporting Goods and Sierra. 
Rooted | 1408 N. Main St. 
Rooted is a boutique with a focus on artisan-made goods, food and beverage, curated vintage, and more! Wonderland Sweets is also located inside Rooted and has baked goods for sale in the shop to-go.
Maze Books | 406 E. State St. 
Maze Books is a community-driven bookstore with a focus on affordable, hard-to-find titles.
CherryVale Mall | 7200 Harrison Ave. 
The area's premier indoor shopping mall has more than 130 stores including JCPenney and Macy's, and specialty stores including favorites such as Aeropostale, American Eagle Outfitters, Bath and Body Works, The Children's Place, Foot Locker, Express, Victoria's Secret and PINK, and Zumiez. Large food court, ice cream and coffee shops.