Prairie Street Brewing Co.
200 Prairie St.
Rockford, IL 61107
Where do I begin? We have been through so much together. Between Thursday night Dinner on the Dock, the Pilot Series, the beer tent at the City Market, first dates, and birthday dinners, there are too many fond memories to keep track of between you and I, PSB (insert heart emoji here). In all seriousness though, if you are an "all about the atmosphere" person, this place is for you. If you are a beer snob, this place is for you. If you are a human that breathes, this place is for you. If you follow my Instagram account you know how much I l love Prairie Street Brewing Co. From the cheese curds (if you haven't had these you haven't lived) to the beer flights (shout out to West Coast IPA) to literally everything else on the menu, you absolutely positively cannot go wrong here.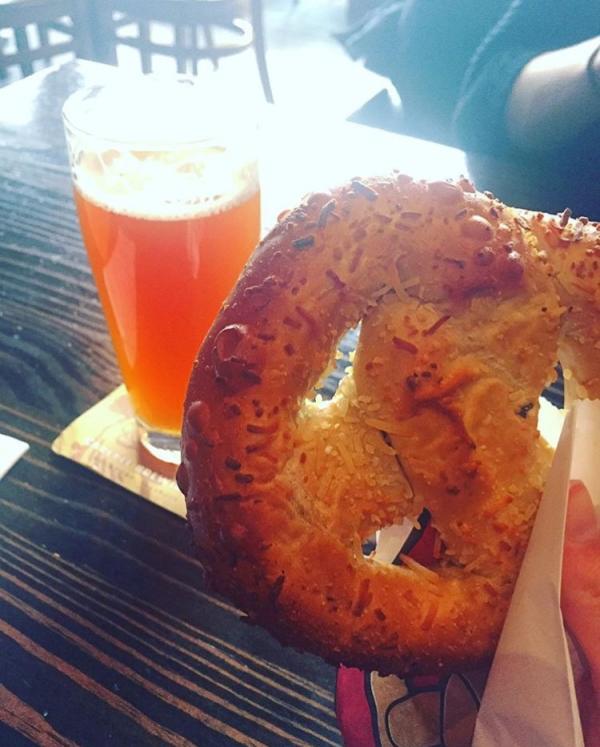 Carlyle Brewing Co.
215 E State St.
Rockford, IL 61104
When I first started working in the downtown Rockford area, my daily route conveniently forced me to drive past Carlyle Brewing Co. Every time I did so, I gazed longingly in adoration (mostly because I had never been there before but also because beer > work). Once I finally checked it out, I realized what I had been missing out on for the last 23 years of my Carlyle-less life. Let me just put things in perspective here… My friends always pause when food and drinks arrive at the table (no matter what restaurant we are at) because they know better than to dig in before I take a photo. HOWEVER, at Carlyle I started drinking my beer and inhaling the pizza before I could take any pictures. Luckily my friend knows how to practice self control and I was able to steal her Jalapeño Cheese Stuffed Pretzel for your viewing pleasure. 'Nough said.
Pro tip: If you order a Humulus Lupulus, only use the full name the first time you order it. Then simply use the term "refill" for every round after that. You'll thank me later.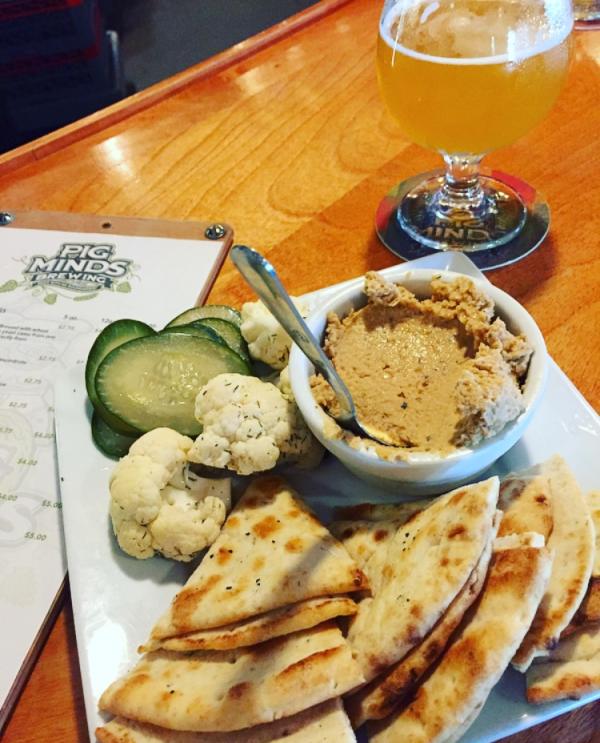 Pig Minds Brewing Co.
4080 Steele Dr.
Machesney Park, IL 61115
After a quick shopping trip to 173 to purchase food-inspired pool floaties (don't ask), I had a hankering for a beer and a snack. Then the foodie on my shoulder said "Pig Minds"! Aside from the fact that the building itself and the staff within it are AMAZING, the beer and food are absolutely delicious! Although it was difficult to choose one beer, Sweep the Leg was pure delight (if you like West Coast IPA from Prairie Street, you will LOVE this). Shout out to all you vegans out there, Pig Minds is an all-vegan establishment! While I am by no means a vegan, I was very excited to explore the food options here. Let me tell you, it did NOT disappoint! I had the Hummus of the Day which was Mediterranean inspired. I think we can all agree that hummus doesn't photograph well… but I don't think I could describe in words how delicious it is without making you want to go get it so I will just leave you with this… GO GET IT!