We love summertime in the Rockford region! There's just SO much to do that it's hard to name them all! With only few weeks left before school starts, make sure you make the most of your summer and cross off this entire list before the season ends.
Achieve wakeboard status
No boat is needed! Head to West Rock Wake Park to wakeboard or waterski with a rapid cable-tow system. Whether you're a first-time rider, an old school water skier or a seasoned pro, West Rock has everything you need for a great day on the water. Book a two-hour "Learn to Ride" session or "Cable Park" session.
Tube down the Sugar River
It's hot in Northern Illinois. Relax and cool off by tubing down the Sugar River. Bring plenty of sunscreen, snacks and a cooler and rent a tube or kayak through Sugar River Adventures in Rockton, IL. For weekend and holiday tubing, the shuttle will transport designated vehicle drivers from Sugar River Forest Preserve to Colored Sands Forest Preserve. Shuttle times estimated every 20 minutes.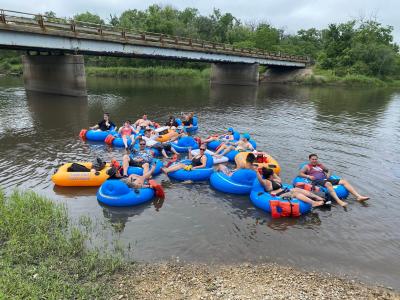 We dare you to check off all of these items! And don't forget to take plenty of pictures and tag us on Instagram using #gorockford
PHOTO CREDITS
West Rock Wake Park, Klehm Arboretum, Sugar River Tubing Adventures, Mindy Joy Photography, Rockford Rivets, Dairyhaus, Mike Newcomer at Pec Prairie Path, Barnstormer Distillery