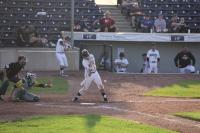 Batter Up!
The Rockford Rivets are in full swing at the Rivets Stadium. It is a great summer activity for the family, your office, or a place to hang out with friends!
Rivets Stadium brings the big-leagues to Rockford with grandstand seating, patio areas, and a pavilion full of food, drinks and merchandise, all in a clean, convenient, and family-friendly setting.  As a part of the Northwoods League, the Rockford Rivets are a team of elite college baseball players. The Northwoods League has more than twenty teams and is the largest organized baseball team in the world. Lucky for us, this means there are plenty of games to attend! It is an easy way to see players that could advance to Major League Baseball.
Why a Rivets game is the perfect place to go with….
Your Family
The stadium
The stadium is the perfect size to take a family! The atmosphere is quiet, but lively. There is easy parking, and plenty of seats. Kids will get the full ballpark experience, but on a scale that is easy to manage.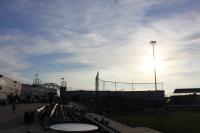 2. Kids Activities 
This place was built for kids! There are bouncy houses, a kids zone and TONS of fun things for kids to do! In between innings, and before and after the game there were games for kids on the field. At the end of the game, all of the kids ran the bases, but before that they had a chance to go on the field and participate in mattress races, a ball toss, musical chairs, bat spinning and more.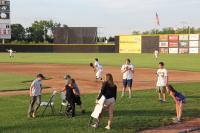 Your Group (Office, Birthday Party, etc)
The Event Space
Rivets Stadium has several awesome options for hosting an event.The Stadium Club offers patio tables and lounge seating. Your guests will have access to unlimited hot dogs, hamburgers and brats! You can also host a picnic in the Pavilion, or a porch party on the Right Field Porch.
All of the spaces have plenty of room, and a great view of the game. A perfect setting for a summer get-together!
Birthday Party Packages
Kids will love to eat ballpark food and watch the game. After the game they can have autographs signed too! The lucky birthday boy or girl even gets to throw the first pitch.
Your Friends
The Atmosphere
Everyone loves eating stadium food and being outside on a nice summer night. Ballparks are as American as apple pie. Rivets Stadium embodies everything you love about a ballgame, in a compact Rockford version. The music was great, parking was easy, and everyone there was in a great mood! When the song YMCA came on there were even people dancing!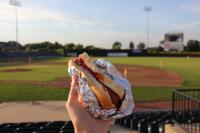 The Price
Stadiums are notorious for having expensive food and drinks. But, lucky for all of us, Rivets Stadium does not adhere to the status quo! Food, drinks, and tickets are all reasonably priced. You can have a great night out without breaking the bank.
No matter who you go with, be sure to add Rivets Game to your summer bucket list! As they say after a victory- "Screws are hot!"
Screws aren't the only thing that's hot this summer: For more summer bucket list ideas check out Summer Love , or our Calendar of Events