Get ready to jingle all the way into the most magical time of the year in the Rockford region! The holiday season is upon us and we are getting ready to kick things off with the best Christmas fest in the Midwest – Stroll on State - happening Saturday, November 25! Whether you're planning to join us for the local shopping, holiday parade, tree lighting celebration, attractions and tons more, we've got you covered. Here are our Top Tips to ensure you have the best experience possible this year. Our guide will help you make the most of your time and take the guesswork out of planning so you can focus on making the merriest of memories.
1. MERRY & BRIGHT STROLL ON STATE HOLIDAY PARADE
This year's Holiday Parade, sponsored by The Power Connection – IBEW 364 & NECA, is going to be even more spectacular than ever! Starting at 2 p.m. on S. Main Street at Chestnut Street, the parade will make its way north to State Street and then cross the State Street Bridge, ending at 3rd Street. To get the best view, make sure to find a spot along the route starting at 1 p.m. HolmstromKennedy PC and Mercyhealth are each sponsoring a holiday-themed balloon, while Hard Rock Casino Rockford is adding excitement by sponsoring the remaining balloons, including a brand-new surprise Rockford themed balloon!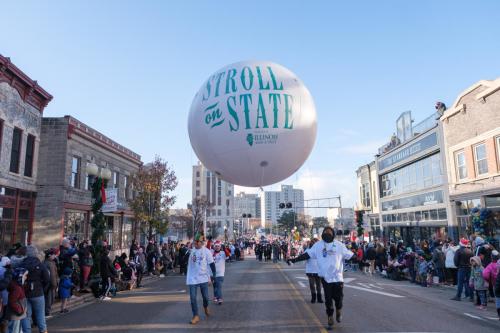 2. CITY OF ROCKFORD CHRISTMAS TREE LIGHTING CEREMONY
This is the big moment when the community gathers to officially kick off the holiday season with Rockford's official tree lighting ceremony beginning at 6 p.m.! The tree is located at the Main Stage at Main and Elm Streets (sponsored by Northwestern Illinois Building Trades). The Main Stage, sponsored by ComEd, will feature music and other entertainment throughout the day. This is one of the most magical moments of the night, so you won't want to miss it.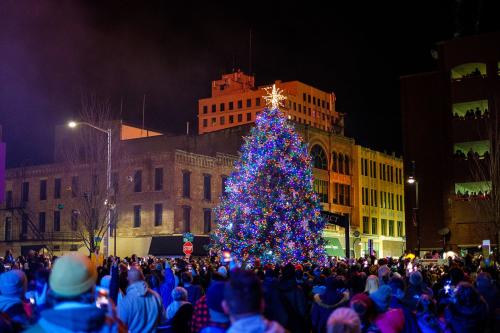 3. SKY LIGHTS FIREWORKS SHOW
Experience the dazzling spectacle of Sky Lights Fireworks, brought to you by Pierce Distribution, as it illuminates the downtown Rockford skies once again! The show will launch from the Jefferson Street Bridge at 8:30 p.m. These breathtaking fireworks will be visible from every corner of the festival for those who can see the Jefferson Street Bridge. Get ready for an unforgettable fireworks spectacle!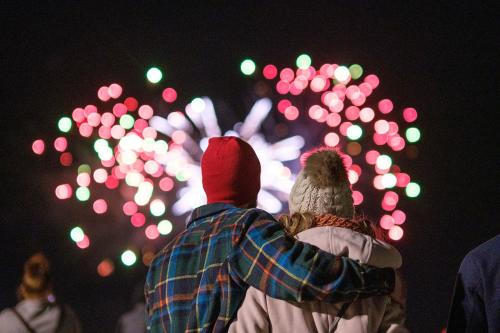 4. STAY WARM!
Worried it may be a little chilly at Stroll on State this year? Don't worry! We'll keep you nice and toasty at three S'mores stations, Fire and Ice displays (sponsored by Plumbers and Pipefitters Local 23), Fire Pit locations (sponsored by United Union of Roofers, Waterproofers & Allied Workers Local 11), two Hot Chocolate Express locations and a Stroll on State St. Nick's Stroll Gear stand located at Water Street and State.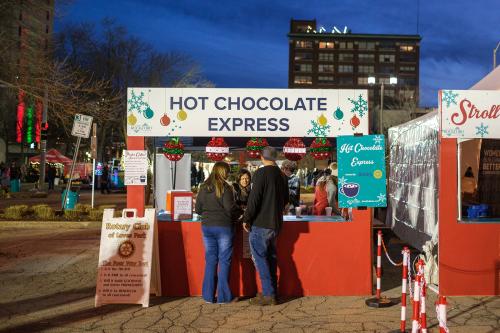 5. Plan your stroll night in advance with the BRAND-NEW interactive map
Download the new Stroll on State interactive map and get ready to plan your Stroll experience in advance with helpful resources, descriptions and navigation at the touch of a button. Once the map is downloaded set it to favorites and have it handy to also use the night of the event: www.gorockford.com/stroll-on-state/map/.  All of the latest info can be found at www.Strollonstate.com sponsored by Project First Rate.
6. Level up your parking experience with shuttle bus rides!
Shuttle Buses will run continuously every 20 minutes starting at 1pm from all 3 sites. All shuttles will drop off near Third & State Streets, in specially reserved Stroll on State Bus Shuttle Lot. The final shuttles will depart Stroll on State grounds at 9:30 pm. Thanks to Rockford Mass Transit for sponsoring and helping to add this convenience for our guests.
YMCA (200 Y Boulevard)- handicap accessible paratransit buses are available at this location only.
Crusader Community Health (1200 W. State Street)- well-lit with plenty of parking, just minutes away.
Bethesda Covenant Church (2101 E. State Street)- This year we are excited to announce the newest location, Bethesda Covenant Church. Their members are excited to help you park, enjoy coffee or hot cocoa, and use of restrooms while you wait for the next shuttle bus.
7. SHOP, DINE, AND SUPPORT LOCAL SMALL BUSINESSES
There will be several ways to support local and find great one-of-a-kind gifts for the holidays. Visit Frosty's Merry Market (West is sponsored by Chicago Blackhawks Foundation & Rockford IceHogs Foundation) to discover vendors set up around the Stroll grounds and in addition, downtown restaurants and eateries will be open for business the night of Stroll to satisfy your food cravings. While you're exploring downtown, don't miss out on the chance to get some Christmas shopping done too, and shop locally! Small Business Saturday is a great opportunity to support our local businesses while bringing home some holiday-themed, limited-edition gifts and goodies!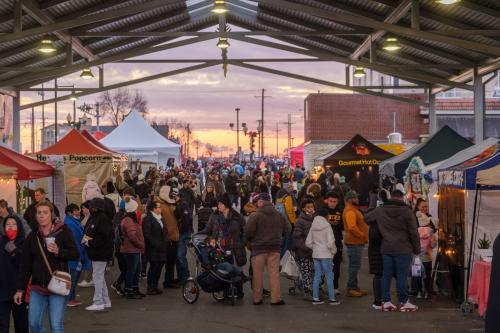 8. SO. MUCH. SANTA!
Stroll on State wouldn't be complete without an appearance by SANTA! Keep your eye open for Santa Claus who will be roaming throughout the festival. You may find him at a S'mores station, taking care of his reindeer, on state at the tree lighting or grabbing a hot chocolate. Be sure to stop by Letters to Santa at Stroll on State inside Rockford City Hall (sponsored by FurstStaffing) to write your Christmas wish list as well! There will be a special mailbox where you can drop your letters and they will be shipped off to the North Pole to Santa himself. Be sure to include your address because Santa might even respond! While you're there, you will also want to watch for our friends at Forest City Fairytale Co. as they read enchanted stories.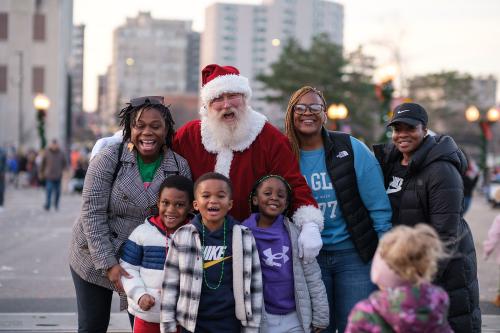 9. GIDDY UP AND TAKE A HORSE AND WAGON RIDE
One of Stroll's tried and true attractions that feels nostalgic and brings the awe and wonder to the streets of downtown Rockford is the Horse and Wagon Ride experience (sponsored by Amazon). Make joy filled memories together and see Stroll on State from a whole new perspective. For a list of times visit www.strollonstate.com.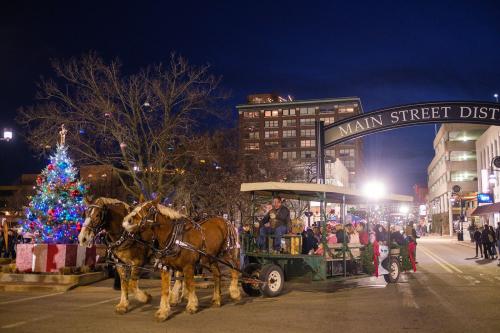 10. BLITZEN AND HIS FRIENDS ARE READY TO PARTY WITH YOU!
Join us at Blitzen's Ball, an exciting Character Dance Party crafted for kids. From beloved princesses to courageous heroes and more, this lively dance event is presented by Characters 2 Life and will be held within the magical fairytale experience come to life inside Stewart Square. Generously sponsored by OSF Medical Center, this event promises fun for all attendees.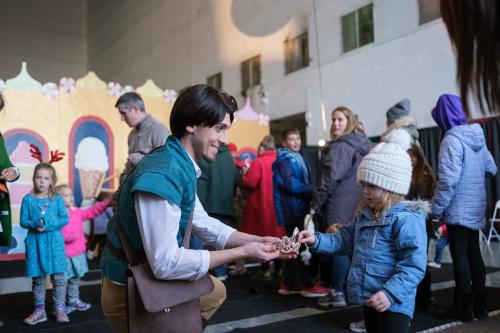 11. IT'S SHOWTIME!
Is it even the holidays without "The Grinch"? He wouldn't think so! Join us for the return of this fan favorite experience and watch the classic tale on the big screen at both the Outdoor Movie Land (next to Jimmy Johns on East State Street) and the Indoor Movie Land inside Stewart Square (sponsored by Xfinity).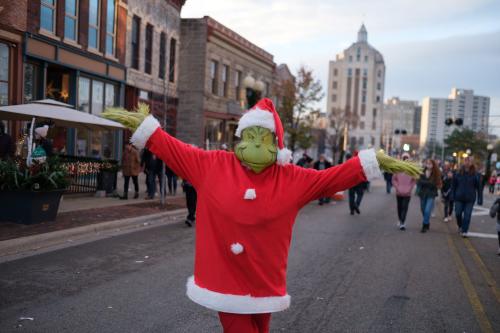 12. PLENTY OF PHOTO OPS
Stop at any, or better yet all, of our Selfie Stations at Stroll on State. Check out the map for this year's locations and pose for your perfect shot. This interactive activity is sponsored by General Mills and Quartz.
There are two new photo opportunities this year. A North Pole Village experience with a Rudolph balloon, elf houses and more. There will also be a Snow globe photo station sponsored by Comfort 1st Insulation.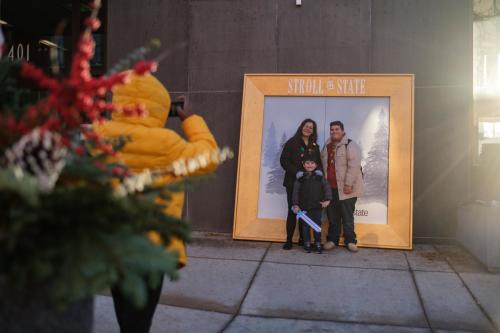 13. STAY CONNECTED ON SOCIAL MEDIA
Make sure you use the hashtag #strollonstate and tag @gorockford + @strollonstate on your social media channels and your photos could be featured on our pages! Follow the Stroll on State Facebook and Go Rockford Facebook and Instagram pages throughout the day/night to get an inside view of Stroll on State.
Stroll on State is presented by Illinois Bank & Trust.