On June 29, 2019, thousands of people gathered at downtown Rockford intersections, streets and venues to welcome home one of our city's most noted ambassadors and newly crowned NBA champion. More than a celebration, the day's festivities become a quintessentially Rockford event.
Fast-forward about eight months from that historic day and any allusion to the word "essential"—now one of many all-too familiar buzzwords—would unknowingly take on a whole new meaning. Thankfully over the last several months, our community has persevered largely through its creative and resilient spirit, a sure sign that an air of optimism still exists.   
Fred Comes Home may seem like it was years ago, but it remains a transcendent time capsule of sorts. It's also a reminder of the significance of shared optimism and responsibility, two words that shape our role as a destination storyteller.
We are inherent optimists at the Rockford Area CVB, as it is our job to proactively share the good stories about our community to bring people together. This naturally becomes our passion when we take inventory of the vast and varied programs, venues and people that we have to offer for residents of and visitors to our region.
In tourism-speak, our elevator pitch goes something like this: Quality Venues + Drive Market + Affordability + New Product + Tourism Tradition + Welcoming People = Win. The math also equates locally. Let's explore a bit further…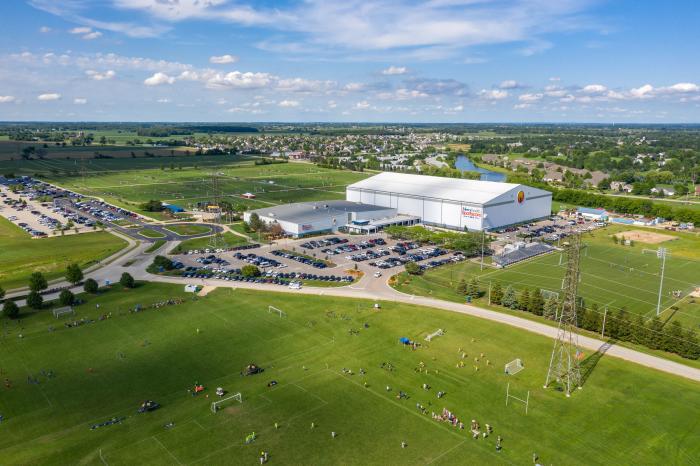 QUALITY VENUES
Our region has long been a sports tourism powerhouse featuring iconic venues like Mercyhealth Sportscore One, Mercyhealth Sportscore Two and Indoor Sports Center, UW Health Sports Factory, BMO Harris Bank Center, and the Rock River. And the leisure travel segment blends naturally with the group meetings and events market thanks to unique spaces like Anderson Japanese Gardens, Coronado Performing Arts Center, Nordlof Center or the brand new Rockford Conference Center at the Embassy Suites by Hilton Rockford Riverfront (more on that below). Each venue presents beauty and space to create events, experiences and memories for visitors and residents.
UNPARALLELED DRIVE MARKET
We're hearing a lot of talk about road-trips of late, though the Rockford region has always been positioned to succeed because of its driving proximity to neighboring markets. Chicago, Milwaukee, Indianapolis, St. Louis and Minneapolis-St. Paul are all within a five-hour drive. Moreover, infrastructure investment in recent years continues to make it easier for locals and visitors to navigate the region. In short, the ease of literally driving business and people to and from Rockford is a critical part of our success.     
AFFORDABILITY
It's no secret that living in and visiting our region is easier on the budget than our large-market neighbors, further incentive for event operators and visitors make the trek to the Rockford area. We have renowned spacious amenities like Discovery Center Museum, West Rock Wake Park, our national award-winning Rockford Park District, Rock Cut State Park, a growing local restaurant scene for all flavors, and about 3,000 hotel rooms—251 of which are new inventory—in Winnebago County. All of these and more are available to enjoy at a fraction of the price and hassle of our big-city counterparts.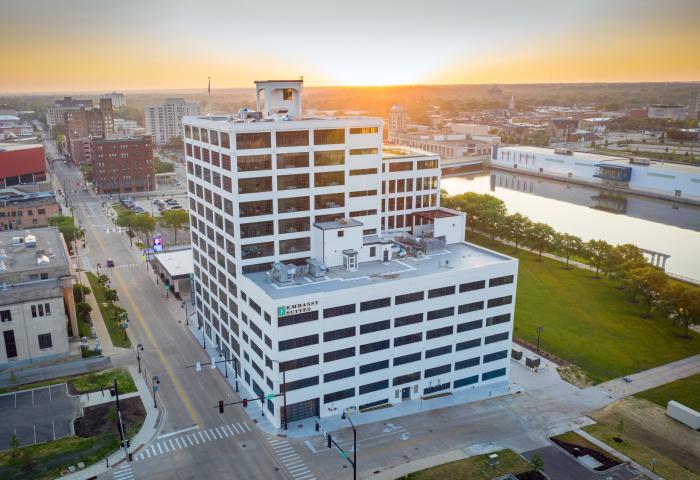 NEW PRODUCT
Speaking of what's new, we are ecstatic about the opening of the 160-room Embassy Suites by Hilton Rockford Riverfront and Rockford Conference Center that combine to offer more than 22,000 square feet of event space. The property, which opens this month, is located on the Davis Park grounds downtown and adjacent to the rocky ford where our region was founded. Beyond its historic relevance in the heart of our region, the hotel and conference center is one block from BMO Harris Bank Center, directly across the Rock River from the UW Health Sports Factory and within walking distance of downtown restaurants, venues, shops and attractions.
The completion of this project makes for a truly connected and walkable experience, and adds another much-needed dimension for creative marketing. Packaged proposals for arena events like a UFC Fight Night, or activation and program enhancements for festivals like CRE8IV, Stroll on State or the next NBA championship celebration are now our new reality. It's the stuff dreams are made of for destination and storytelling professionals.
And not to be forgotten in nearby Loves Park, the 91-room Home2 Suites by Hilton is nearing completion along the I-90 corridor near the Riverside and I-90 exit. Get ready to book your next staycation or stay there when you take that much-needed road trip this summer.
TOURISM TRADITION
Since 1984, RACVB has proudly represented the Rockford region as its official destination management organization. Accredited by Destinations International (DI) for tourism industry excellence, the Bureau's long lineage of success has risen to new heights recently by: curating destination-defining events (Stroll on State, CRE8IV and the FVV Fan Fest to name a few); competing for and winning bids for national events (AAU National Basketball Championships, six NJCAA National Junior College Championships, Tough Mudder and USA Wrestling National Championships); and partnering for product development (with the Rockford Park District for Mercyhealth Sportscore Two and UW Health Sports Factory, and with Gorman & Company for Embassy Suites by Hilton Rockford Riverfront and Rockford Conference Center).
These wins are emblematic snapshots of the work we do to lift up our destination. It's a method that is local- and visitor-friendly, it's authentic and fresh, and it grows our regional brand and economy. And most importantly, the responsibility that comes with it fuels us 36 years later to keep going big.
How can we outcompete Tampa, Myrtle Beach or San Diego to earn our region the rights to host another national championship? How do we create an event experience as organically impactful as last year's Jurassic Park RKFD watch parties? The road to success is not always clear, especially during a pandemic, but we remain optimistic that we'll get there. And under any scenario, we know that process begins at home.   
OUR WELCOMING PEOPLE
Our residents are everything. All of our program successes—winning bids for sports or meetings events, RACVB-curated festivals and events, or our most recent virtual experiences during the pandemic—are contingent on the buy-in of our local hospitality industry and the people that call the Rockford region home. We lean on local clubs, organizations, businesses and neighbors to help substantiate our storytelling, give us a competitive edge and produce successful events.
Residents are the X factor for winning at tourism, something we understand now more than ever.
FOR THE WIN
For now, an X on the ground may mark the spot for us to remain at a physical distance, and the downtown echoes from thousands of people celebrating the success of one Rockford hero have stopped. Yet the optimism from that historic community event still reverberates.
With safety protocols and limitations in place, we've slowly begun to return to our favorite restaurants, shops, attractions and spaces. Sports tourism has recently returned to the region courtesy of long-time baseball tournament clients and partners Game Day USA and JP Sports, and Rivets Stadium and Rockford Speedway each hosted Fourth of July fireworks celebrations last weekend for the community to enjoy. Moreover, the opening this month of the Embassy Suites by Hilton Rockford Riverfront, located steps from where our region's settlers first gathered in the 1830s, is a symbolic reminder of where we've been, where we are and where we are headed—forward.
We have good news to share, and, with creating the future in mind, we'll continue to do so with optimism and pride. It's our responsibility—for our visitors, for our residents and for the win!