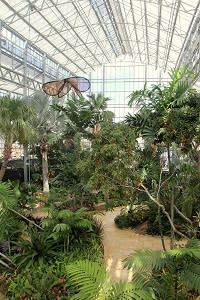 Who has gone to see the Nicholas Conservatory lately and walked through the butterfly area? As of last weekend, I can say I have! It was actually my first time going to the Nicholas Conservatory & Gardens in general. (In my defense, I was away at school when it had its opening.) If you haven't gone to see it yet, you definitely should!
One of the best parts was walking into the actual conservatory. It was a little cold and windy the day I visited, but once you walk in, you are immediately transported into a tropical paradise. They keep it nice and warm and humid...I actually had to walk back out to the lobby to hang up my jacket so I wouldn't be too hot!
The whole complex is beautiful. Palm trees tower over the entire area, and you can walk along the paths and see the variety of exotic flowers and plants (labeled so you can tell what is what). In the month of April, they also have the butterfly exhibit where you can walk through a screened area where the butterflies are flying free. You get the chance to see them up close since they are perched all over the colorful flowers along the walkway and on raised platforms with a couple fruit slices to lure them.
The exhibit features Monarchs and Painted Ladies, both native butterflies so it won't be too long until we start seeing them outside! When I was there, I saw toddlers, grandparents, and every age group in between, so it's a fun exhibit for all ages! The butterfly exhibit is only open through April 28, so if you haven't seen it yet, there is still time to check it out this weekend!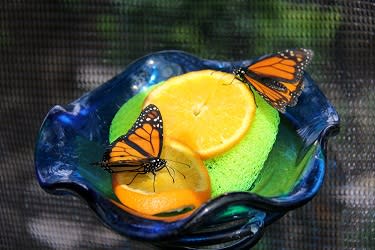 Nicholas Conservatory & Gardens is at 1354 N. 2nd St., Rockford, IL 61107