Stroll on State presented by Illinois Bank & Trust is one of the most anticipated events of the year in our community and with this guide you now have the tools you need to make the experience a guaranteed great time! With lots to see and do and many people traveling from near and far to experience the magic of Stroll, be sure to make your list (and check it twice) to help prepare you for the most wonderful time of the year in the Rockford region! For a full schedule, details, parking, maps, videos and more, click HERE.
1. Do yourself a BIG favor and use the mobile web app to plan your very own Stroll night 
-Plan your entire Stroll on State experience by using the Plan Your Stroll mobile web application! Visit http://stroll.downtownrockford.org to see a map of the Stroll grounds, event and attraction descriptions and more. You can also sign up for text alerts to remind you when your favorite events are about to happen!
BONUS TIP: For a printable pdf version of the Stroll on State map with icons and a legend visit strollonstate.com. You can keep this on the fridge and then carry it with you the night of. If you forget yours, no big deal because more will be passed out by our helpful volunteers at the event!
2. Ride a shuttle bus (sponsored by RMTD)
-If you don't want to worry about parking downtown the night of Stroll on State, there are three shuttle buses you can take! Pick up a shuttle bus at the YMCA downtown (200 Y Blvd.,) Heartland Community Church (1280 S. Alpine Rd.) or Illinois Bank & Trust (4048 E. State St.) Park at any one of these locations and a bus will bring you directly to the Stroll grounds!
3. Bring even the littlest family members
-Stroll on State is perfect for the whole family, even the little ones! There are several indoor locations throughout where nursing mothers can go or parents can visit to change diapers.
4. Pick a spot, any spot to watch the Stroll Parade
-There are plenty of spots with great visibility along the Stroll route to wave to Santa, Hammy and their friends as the parade heads from City Hall at 6:00 p.m. to Rockford's Christmas tree.
5. With wide eyes watch the Official Rockford Christmas Tree Lighting (sponsored by SwedishAmerican, A Division of UW Health)
-This is thee very moment when the community gathers together to officially kick off the holiday season with Rockford's official tree lighting ceremony beginning at 6:15 p.m! The tree is located at the corner of State & Wyman Streets.
6. All of the Bright Lights!
-The fireworks show is going to be set off over the Rock River following the tree lighting, so one of the best places to view the show is from the banks of the river! Stroll through the Rockford River Lights display from 6:30 – 9 p.m. on both the west and east banks of the river between State Street and Jefferson Street when you're getting ready for the fireworks show. 
7. Forgot to bring cash? Not a problem!
-Illinois Bank & Trust is providing ATMs at certain locations on the Stroll on State grounds for your convenience. You can find the ATMs between Wyman and Main St., on Water Street at the City Market Pavilion, near the Kringle Cafe and the 300 block of E. State St.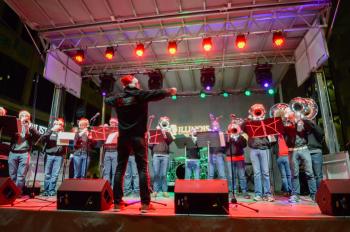 8. Sing-a-long and dance the night away outside at the Merry & Bright Stage (Sponsored by SwedishAmerican, A Division of UW Health) and inside at Veterans Memorial Hall
-The streets will be hopping at the corner of West State and Wyman Streets as several performers take the stage and flood the streets with live entertainment and awesome music. Performers will also take the stage inside Veterans Memorial Hall for a night of pure revelry.
BONUS TIP: The full schedule of performers for each location can be found at strollonstate.com and the Plan Your Stroll app (see #1)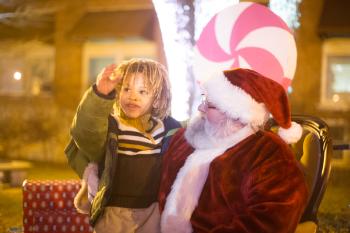 9. Santa will show off his magic skills
-There's not only one, but TWO SantaLands (brought to you by Rockford First Church) this year! One location is west of the river inside Stewart Square and the other is outdoors on the east side of the river. No need to worry, Santa will work his Christmas magic and be at both locations so be sure to get those Christmas lists ready.
BONUS TIP: Stop by City Hall before heading over to either SantaLand so the kids can make their very own list to give him!
10. Giddy up with Horse and Wagon Rides (sponsored by Allstate Insurance Company)
-These FREE rides are provided for families to get around Stroll in a fun way. Catch a ride in front of Veterans Memorial Hall or Water Street.
BONUS TIP: Just remember that Stroll on State is an indoor AND outdoor event and some of the family-friendly activities (like this one) will be outside. Please be sure you bring extra layers to keep warm, comfortable walking shoes, maybe even an umbrella! You never can be too prepared when it comes to predicting our Midwest weather.
11.  Get social with us!
-Wondering how to share your favorite snaps, tweets and posts with the rest of the world? Simple. Use #strollonstate on your social media channels and pass the word on to your friends and fans! Follow the Go Rockford channels on Facebook, Snapchat, Instagram and Twitter all night long to get an inside view of the event.
12. Need a break to re-energize from all the fun? Support Local!
-Your favorite local area restaurants and shops will be open for business to serve you throughout the evening. This is a great way to break away from the cold all while eating delicious food and finding unique gift items.
Have a full agenda filled with Stroll activities and want something fast and on the go? We've got you covered with the Holiday Market (sponsored by Mercyhealth) food, beverage and shopping vendors located under the City Market Pavilion.
BONUS TIP: Be sure to schedule reservations early to local area restaurants and check in advance to see what Stroll on State or Small Business Saturday specials these local area businesses have to offer the night of. This is perfect for the Christmas gift-giving season quickly approaching.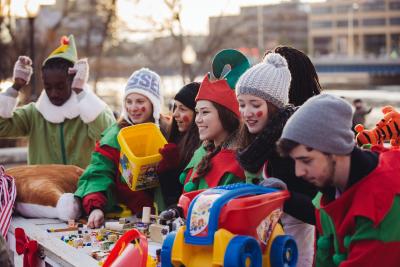 13. Ice skate at Riverview Ice House (brought to you by The Rockford Park District) and outside near Riverview Trolley Station
-Lace up your skates and join many popular costumed characters for a fun indoor experience or take your skates outside to the synthetic rink underneath the twinkle lights for a night to remember.
14. Grab a S'mores and a movie in MovieLand (sponsored by Comcast)
-Showings of how the Grinch stole Christmas will be on the big screen outside at the 300 block of East State Street. This will be on repeat the whole night so no need to worry about missing the fun!
BONUS TIP: Add in the time sensitive attractions you want to see first and then add in attractions that run on repeat after so you fit everything into your personalized itinerary. Be sure to give yourself plenty of time to get to each attraction. With larger crowds you may need a little extra travel time even if the distance is short.
15. 'Twas the night during Stroll on State
- Rockford's City Hall will be transformed into a magical Christmas headquarters! An interactive children's story time (brought to you by Barnes & Noble and Gigi's Playhouse) experience will happen on the hour from 3-9 p.m. Relive the touching story of 'Twas the Night Before Christmas with family and friends.
16. Pose, Smile and Click! (sponsored by ComEd)
-Get this year's Christmas card checked off your to-do list early by visiting Chase Bank's Christmas card booth extravaganza! There will be an interactive photo booth filled with Christmas props and lots of fun!
17. Sculptors will transform blocks of ice into giant masterpieces (sponsored by OSF Healthcare)
-Randy Finch and the Ice Brigades from the Food Network show "Ice Brigades" will set up shop outside the Rockford Register Star and will carve unique ice creations all night long!
For the full list of times and attractions please visit strollonstate.com! Thank you so much for being a large part of the Stroll on State success! This is truly a community event that brings awe and wonder to downtown Rockford each year and our hope is that these magic moments become part of your traditions for years to come.
The fun won't end the night of Stroll on State because there are several other events to enjoy throughout the Merry and Bright season from November to January. Simply click HERE for the complete Calendar of Holiday Events!