The evenings get shorter, darker and the northern winds bring a chill to the city. Northern IL has never been as beautiful as it is right now. Red, yellow, orange and brown leaves covering the ground like a handmade quilt; accept the neat little squares are more like unique puzzle pieces fitting together to blanket the streets!
(See a full listing of Halloween events this weekend below)
As fall settles in we look to the first of the trail of holidays that will brighten our spirits and carry us through this winter season. Halloween is the holiday we all Love to Hate or Hate to Love! Many of usv (Like me..) despise the loss of summer and warm weather, others dread the spooky decor and haunted houses, and still more look to their bank accounts wondering where their savings will go! Yet children of all ages remind us that this is a time for indulging your imagination, letting your own fear take hold of you and relish in mythology of centuries past.
Rockford is the proud home of many businesses, educational facilities, forest preserves, botanical gardens, museums, etc that are embracing the spirit of Halloween to offer holiday themed events to residents of every avenue. There is an event for equestrian enthusiasts, swing dancers, history buffs, health conscious people and more! Whatever your passion, find a local event and get your spook on with people you can relate to. Enjoy entertainment from artists you enjoy all year round. Eat and drink among friends, perhaps lady fingers, eyeballs or creepy crawlers will be on the menu. Take a trip through history on a haunted tour, at a mystery dinner or at a costumed affair.
Several locations have children focused events, offering trick or treating, games, contests and more during daylight hours in safe environments! The Rockford Police Department has even ventured into the planning and attendance of a few events in the area! Get your children out there and let them enjoy the fall colors, the fun of dressing up, and the joy of celebrating among their own community.
You can  travel a short distance from the city (15-20 minutes) to many pumpkin patches or apple orchards in the surrounding towns. As our small town residents flock into the city to shop or have a good time, the city folk are also traveling to enjoy the country settings, corn mazes, haunted hayrides, pumpkins fresh off the vine, pumpkin chuckin' contests and the best fresh Apple Cider donuts  you can get! Bring the family and spend the afternoon hiking through the pumpkin field and pick the perfect size and shape for that Jack O' Lantern design you have been dying to try! Get pictures with Frankenstein or Dracula, let the kids play and enjoy fresh snacks and baked goods in the gift shop. Many locations will hold fall festivals, special events, and costumed occasions.
If you are looking for more of a chill up your spine or a PG 13/R Rated experience, Rockford also offers several Haunted Houses, and many local clubs will be celebrating the season with Halloween Themed Events.  Teens as well as young adults from the city and surrounding towns will pack the parking lots on Friday and Saturday Nights to test their nerves and stomachs in Illinois most horrifying displays.
Darkness all around you, stumbling through unfamiliar passages, creaking floorboards, slamming doors, all of a sudden a blood curdling scream from somewhere close behind you. Strobe lights flicker, demon faces among you, darkness, blood on the walls, pitch black, swift movement close to your head, the light flashes again on the metal blade of a knife. You duck and try to run but bodies are packed around you, you can't move…
If you survive the heart pounding excitement quench your fear and thirst with a friendly costume party downtown. Who knows you could win free beer for the cutest couples costume, best drag costume, hottest man or woman contest, or even the scariest costume! Dance the night away to haunted melodies or Halloween classics or walk the dark and dreary downtown square hopping from bar to bar and party to party.
No matter what your heart desires this Halloween, Rockford offers a variety of fun and fear to satisfy everyone and make 2016 a Halloween you will never forget.
Here is a fun listing of events for this Halloween weekend!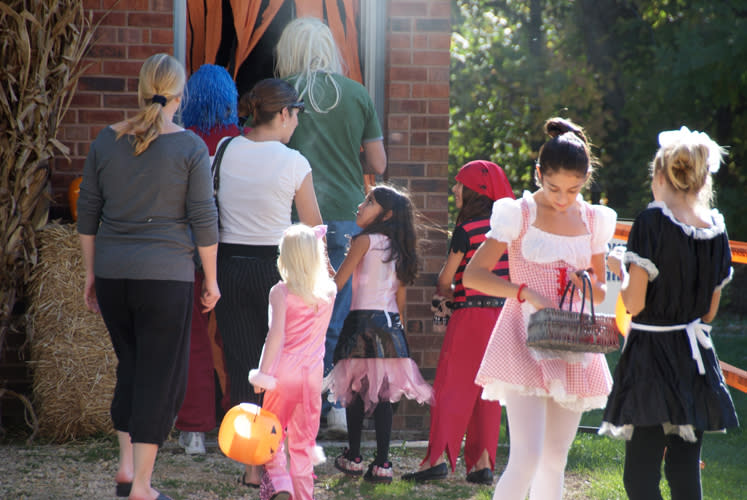 Family Fun
City of Rockford trick-or-treat
Monday, October 31, 2016 from 5:30 - 7:30 p.m.
Healthy Halloween
October 29 @ 2:00 pm - 4:00 pm
University of Illinois College of Medicine at Rockford
1601 Parkview Ave
Rockford, IL 61107
815.395.5920
Night Sounds
October 28 @ 6:00 pm - 8:00 pm
Burpee Museum of Natural History
737 N Main St
Rockford, 61103
(815) 965-3433
Halloween Spooktacular.
Rock Cut State Park Rockford IL
Saturday, October 29 @ 12:00pm
Costume contest and ride, Trick or treat trail and Ghoulish potluck dinner at 5 pm.
All ghost and goblins welcome.
Boo Bash Play and Skate
October 29 @ 1:00 pm - 3:00 pm
Carlson Ice Arena
4150 N Perryville Rd
Loves Park, 61111-8647
(815) 969-4069
Spook the Blocks
October 29 @ 11 - 2 p.m.
Downtown Rockford
David Seebach's Wonders of Magic!
October 29 @ 2:00 pm - 3:00 pm
Nordlof Center
118 N Main St
Rockford, 61101
Haunted Midnight Fun Night
October 29 @ 6:00 pm - 12:00 am
No Joke Mixed Martial Arts
6358 Daytona Dr
Loves Park, 61111
(815) 986-KICK (5425)
The Pumpkin Patch
3178 IL-173, Caledonia, IL 61011
(815) 765-2587
Thyme and Again Farm
10801- 11515 IL-2, Rockford, IL 61102
Thymeandagainfarm.com
Locktoberfest
Lockwood Park
Saturdays & Sundays in October
5201 Safford Rd. Rockford, IL 61101
815.987.8809
Costume Party
Sat, Oct 29, 2016 from 10:00am - 4:00pm
Anderson Japanese Gardens
Spook-tacular Haunts
October 29 @ 3:00 PM - 5:00 PM
318 Spring Creek Road, Rockford, 61107
815.229.9390
Paranormal Tour
October 28 @ 7:00 pm - 10:00 pm
Tinker Swiss Cottage Museum and Gardens
411 Kent St
Rockford, 61102
815) 964-2424
Halloween ComicFest
October 29 @ 9:00 am - 10:00 pm
Top Cut Comics (Loves Park)
5600 N 2nd St
Loves Park, 61111-4602
Halloween Spooktacular!
Hosted by Ken Rock Community Center
Monday, October 31 at 5 PM - 8 PM
3218 11th St, Rockford, Illinois 61109
(815) 398-8864
Halloween Party
Hosted by Monkey Joe's - Rockford
Friday at 4 PM - 8:30 PM
6663 E. State Street, Rockford, Illinois 61108
(815) 399-5637
Haunted Houses
Twisted Crypt Haunted House
5420 E State St, Rockford, IL 61108
(815) 797-2444
Karnival of Karnage
8791 IL-76, Belvidere, IL 61008
(815) 332-2010
Hoppers Haunted House
11576 IL-2, Rockford, IL 61102
(815) 871-7334
Trail of Screams
4500 Rotary Rd, Rockford, IL 61109
trailofscreams.com
(815) 871-5696
Lockwood Park Trailside Equestrian Centre
5201 Safford Rd, Rockford, IL 61101
(815) 987-8809
Fear Fest
6512 Manchester Rd, South Beloit, IL 61080
(815) 916-9194
Adult Events
BOOS & SPIRITS HALLOWEEN GALA
Hosted By The Junior League of Rockford
October 29, 2016 at The Standard
214 E State St, Rockford, IL 61104
(815) 289-5487
Twisted Darkness
Hosted by Twisted Crypt Productions
Monday, October 31 at 7 PM - 10:30 PM
5420 E State St
Rockford, Illinois 61108
(815) 797-2444
Boo Bash Halloween Party at Giovanni's
Oct 28 at 8:30 AM to Oct 29 at 2 AM
Giovanni's / Alchemy / Big Al's Bar
610 N Bell School Rd
Rockford, Illinois 61107
Freak Fest
Hosted by Gallery 610
Sat 9 PM
610 E State St, Rockford, Illinois 61104
(815) 782-0610
Murphys Halloween Bash!
Hosted by Dj Petey P
Saturday at 8 PM
510 S Perryville Rd, Rockford, Illinois 61108
(815) 986-0950
A Nightmare on Main St Halloween Bash
Hosted by The Olympic Tavern
Oct 29 at 8 PM to Oct 30 at 12 AM
2327 N Main St, Rockford, Illinois 61103
(815) 962-8758
Mulligan's Halloween Party!
Hosted by Mulligan's Pub & Grill
Saturday at 7 PM
2212 N Main St, Rockford, Illinois 61103
(815) 963-7869
7th Annual Jack the Ripper Party
October 29 @ 9:00 pm
The Hope & Anchor
5040 North 2nd Street
Loves Park, IL 61111
815) 633-2552
2016 Creepy Crawl (Halloween Pub Crawl)
Hosted by RBI BAR AND RESTAURANT
Oct 29 at 9 PM to Oct 30 at 2 AM
3870 N Perryville Rd, Rockford, Illinois 61114
(815) 877-5532