We have a tradition in my family where we go out to eat whenever it's someone's birthday. Since my grandpa's and my birthdays were this week, we went out last weekend to celebrate! We always choose a local restaurant to go to, and this year we chose one of my all-time favorites: Japanese restaurant JMK Nippon!
Now we didn't choose this restaurant just because they sing one of the best birthday songs ever, but going there really is like dinner and a show! I'm a big fan of going to JMK for lunch and grabbing some sushi, but last weekend we opted for the teppanyaki tables. To gain some insight in what you would expect when you dine at JMK, let me give you a play-by-play of my meal. 
What you need: An empty stomach, good company, and a love for delicious food
What you order: Share a "dinner for two" with someone (like my older sister and I did!)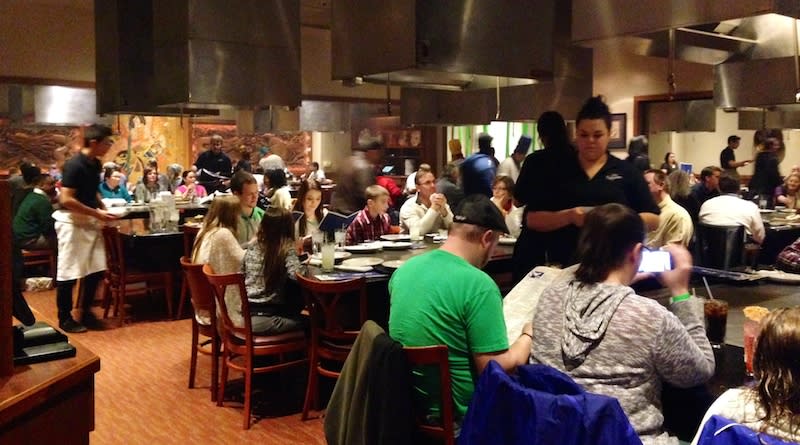 COURSE 1: Soup and salad
Soup and salad at restaurants can be pretty basic, but a few special touches to these dishes at JMK make these items really pop. The tangy ginger dressing on the salad is incredibly refreshing, and the light soup feels hearty with the addition of mushroom slices.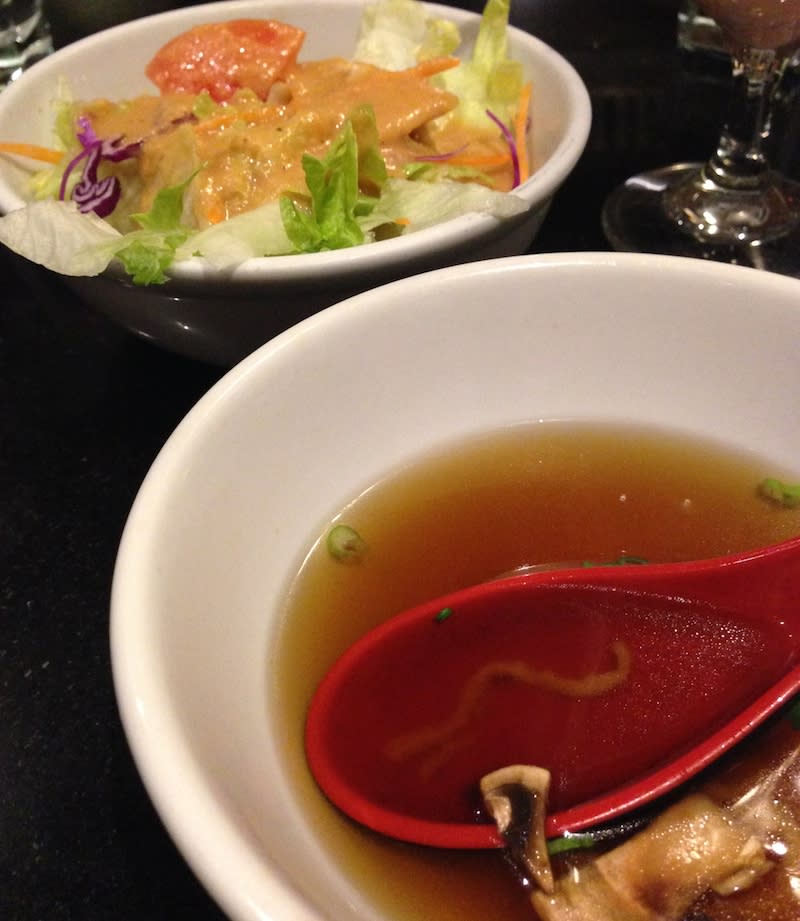 COURSE 2: Shrimp appetizer, rice and veggies
This is the part of the meal that had the whole table mesmerized. All of us were in awe as the chef prepared the fried rice...while gracefully tossing an egg into the air and catching it using only a spatula. But then the real show starts when the chef assembles a tower made of raw onion rings, pours oil over it, and proceeds to light it on fire...causing a large pillar of flame! (Which actually was quite nice since it was a chilly day.)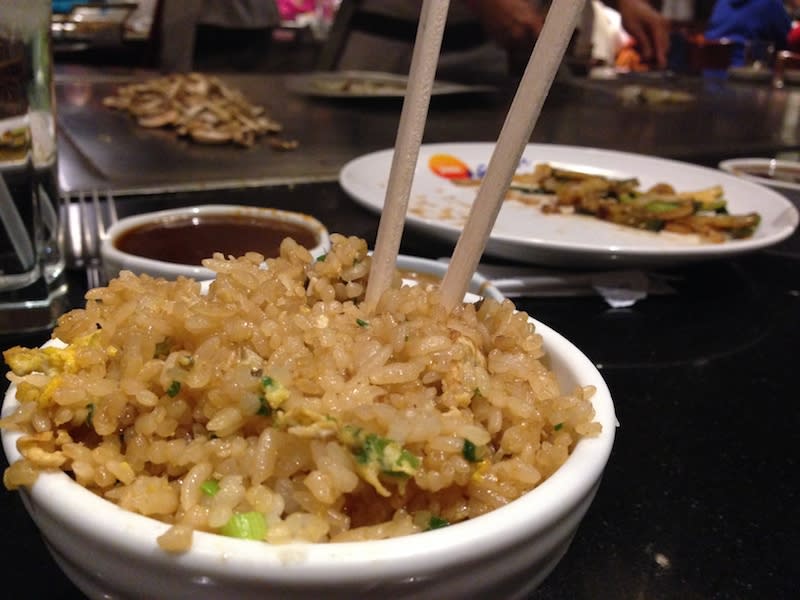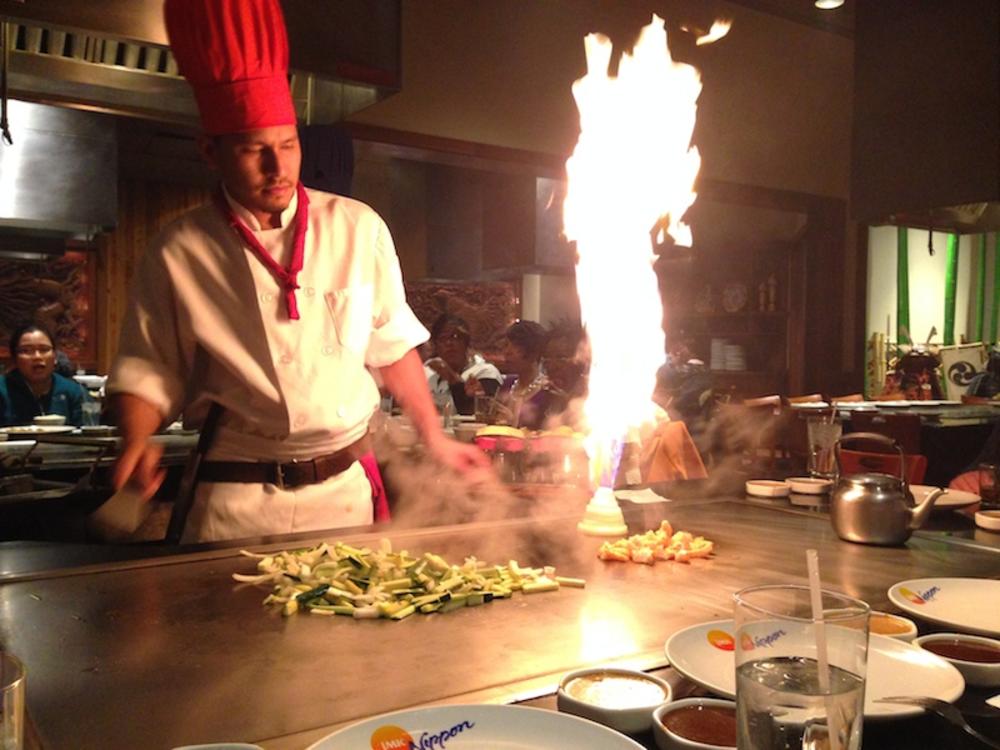 COURSE 3: Chicken, steak and scallops (yes, all three!)
This is the best part of the "dinner for two." You don't have to stress about choosing between what you want your main dish to be, because you get three options! All three of the chicken, steak and scallops were cooked completely perfectly. We opted to upgrade our steak to filet mignon, which was an excellent decision because the steak was so tender, it felt like butter melting in your mouth. Yum!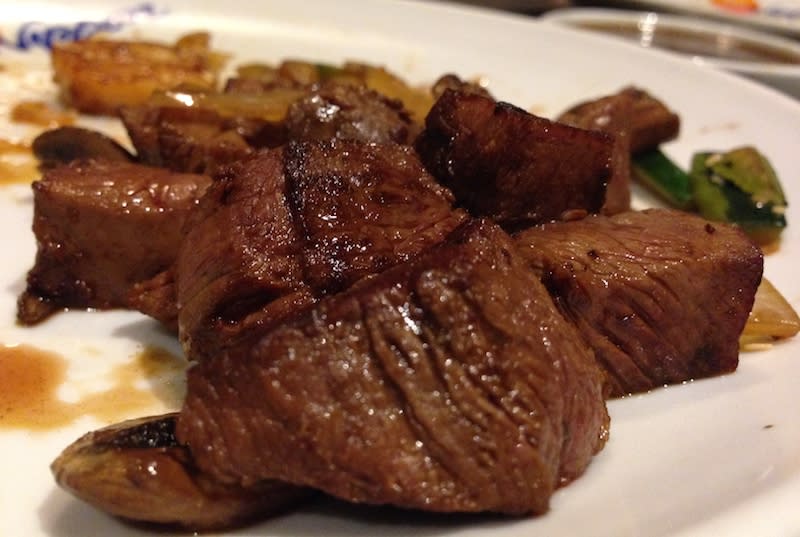 BONUS COURSE: Pineapple and singing
If you go to JMK around your birthday, you need to request the "birthday pineapple." Not only do you get a slice of juicy pineapple, but all the chefs will gather around your table and sing you a happy birthday song...in Japanese!
JMK Nippon is not only the perfect place to dine at for birthdays, but for any night of the week as well! A few tips though: 1) reservations are always a good idea, and 2) don't try to eat all of your food if you're stuffed...the leftovers are delicious!