Have you ever wondered what secrets hide behind this large grey fence on Spring Creek Rd?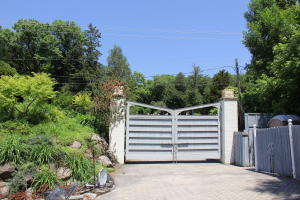 The answer: La Paloma Gardens!  
Hidden between Spring Creek Rd. and Brookview Rd., La Paloma Gardens is a hidden treasure in the middle of Rockford .I had heard of La Paloma Gardens before, but had no idea what I was getting myself in to. Pulling up to the address, I was very confused. We were having an RACVB staff meeting in a garden event space…but all I saw was a house. It was a house I had seen a dozen times. I grew up nearby, and went to Marsh Elementary school, so I had walked by the house dozens of times, and never suspected the house was anything more than, well, a house. However, if you walk in to the backyard, you are in an alternate universe! Almost four acres of oasis sprawl before you, with ponds, bridges, flowers and more! When I stepped into Karen Harding's backyard, it took my breath away. Karen described her yard as, "a garden, with all capital letters".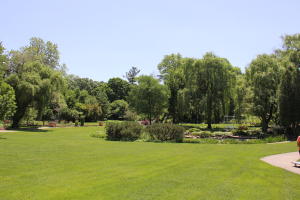 This GARDEN is no joke. La Paloma Gardens is truly a piece of art. The three-hundred and eights varieties of hosta plants are just the start.
 In 1985 Karen and her husband starting gardening. They turned their kids old horse paddock into a vegetable garden and started a roadside vegetable stand on Spring Creek Rd. Thirty-three years later, this garden has definitely evolved from a roadside vegetable stand. La Paloma Gardens now encompasses not only a vegetable garden, but an Italian courtyard, Koi house, waterfall, bridges, paths, sprawling green lawns, art pieces, fountains, greenhouses, a barn, a shady gazebo, and so much more! I could go on forever; this hidden gem is something you will just have to go see for yourself!
 During our trip, Karen was a delightful host. Full of wit and humor, she gave the RACVB staff an entertaining tour of her property. She was full of stories and gardening knowledge. Between the beauty of the gardens and our charismatic host, I never wanted to leave!
Walking around the garden was peaceful and relaxing. You are so caught up in the tranquility, you completely forget you are next to a busy road! I loved all the ponds and other water features and could easily sit by them for hours in blissful meditation.  "Paloma" is a derivative of dove, which is a symbol for peace. I just can't imagine being in the La Paloma Gardens, and not feeling at peace.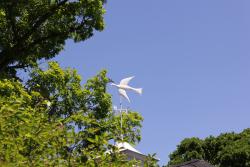 La Paloma Gardens is the perfect place to spend an afternoon exploring or reading, and it is a great spot for you next event!  I can not wait to go back. With any luck, Karen will adopt me and let me live by the pond!