Humans have an affinity for nature. We delight in its beauty. We seek it for recreation. But did you know that connecting with nature also makes you healthy? Numerous recent studies reveal that access to nature has tremendous preventative and therapeutic effects on body and mind. Experts are telling us that one of the healthiest things we can do right now is to get outdoors.
It's spring and the wild flowers are blooming, the sun is warm, the streams are flowing and lots of cool birds are migrating through our area. So don't stay inside! The 43 Forest Preserves of Winnebago County are open for you to walk, hike, birdwatch, picnic and connect with nature.
Due to the shelter in place order in effect until April 30th, vehicles may not enter the preserves and entrance gates are locked. Visitors are encouraged to park at the entrances and walk in.  When the shelter in place order is rescinded and we are fully staffed again, preserve gates will be opened. Restrooms are also closed at this time. All preserve visitors must Observe at all times CDC's minimum recommended physical distancing of six feet from other people.
Medical research from around the world demonstrating that doses of nature can deliver powerful benefits has spawned a new movement to connect people to nature. Not surprisingly, many of the most dramatic health benefits can be attributed to being physically active in nature.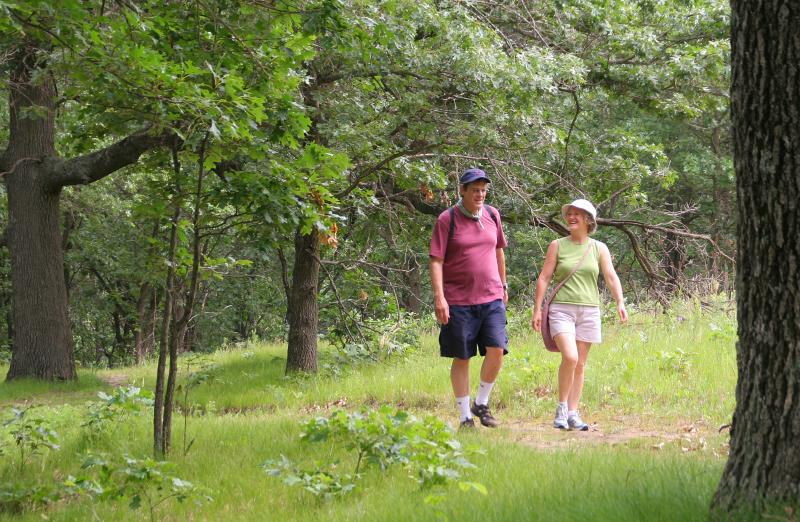 Nature's Health Benefits (excerpted from Literature Reviews published by the Children & Nature Network)
•   Fitness- Physical activity in nature lowers rates of cardiovascular disease, stroke, obesity.
•  Child Development- Playing in nature supports children's development in every major way—intellectually, emotionally, socially, spiritually and physically.
•  ADD- Immersion in nature reduces Attention Deficit Disorder (ADD) symptoms.
•  Vitamin D- Exposure to sunlight boosts immune function and bone health by raising levels of vitamin D.
•  Anxiety & Depression- Interacting with nature significantly relieves stress and reduces depression.
•  Immunity- Chemicals secreted by trees (phytoncides) improve immune function and reduce inflammation.
Nature's efficacy increases if you're near a stream or pond. Neuroscientists and psychologists have found that waterscapes have powerful therapeutic effects conducive to improved mental and emotional health. Fortunately, Winnebago County is blessed with four rivers and its forty-three forest preserves contain dozens of restored streams, wetlands, and ponds rich with wildlife.
Walking and hiking are the most popular activities in the forest preserves. A trail system totaling over 100 miles of dirt, mowed and paved trails offers abundant opportunities for all levels. To help you choose which destination you'd like to explore visit our Favorite Forest Preserve hikes page to read descriptions and highlights of various routes.  https://winnebagoforest.org/hiking/favorite-forest-preserve-hikes-2/
Are you ready to access the health remedy that's free and has no side effects? Find information and inspiration for filling your nature prescription at winnebagoforest.org. Also, check out 815outside.com for suggestions on outdoor activities and opportunities at parks, preserves, trails and natural areas throughout Winnebago County.