In its TENTH season … EVERY Friday night … Yes, we're talking about the Rockford City Market! While many of us know plenty about this weekly event, you may not have heard about the TWENTY-ONE vendors that are NEW to the City Market in 2019! Help us welcome these vendors and go check them out on your next Friday evening off in downtown Rockford!
The 21 new vendors include: Barb's Garden & Pantry, The Bell Churros, The Cookie Jar, Disco Chicken Food Truck by Abreo, Eclectic Jewel, Eggily Bakes, Elixir Juice, Hick's BBQ, J-Dawg Jerky, Juxtaposition, Luha's Living Art, Magic Circle Crepes, O's Bakery, Olivo Tacos Food Truck, Pet Gourmet, Savor BBQ, Sweet Jacquelina, Synergy Collective, Velvet Robot Coffee, Wunberg Produce, You're Bacon Me Crazy Food Truck 
Keep reading to find out more about each vendor and maybe some secret deals too!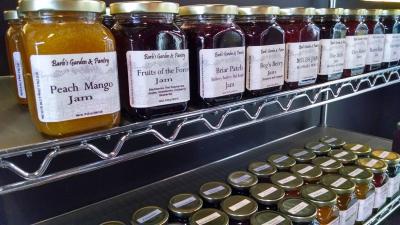 1. Barb's Garden & Pantry
Based in: Long Grove, Iowa
Find them at: https://www.facebook.com/barbsgardenandpantry/
About: Starting in 2003 out of a family home in Iowa, Barb's Garden & Pantry specializes in home grown produce and various products they can make from it. Find them at your local farmer's market or winter market. We tried the chocolate sour cream donut, and we were certainly left satisfied. Barb's Garden & Pantry has may tables FULL of homemade treats all for a great deal too! Their most popular item is the Briar Patch Jam, but what will you choose?
Products: Salad greens, Salad dressings, Jams, Pickles, Baked goods (bread, donuts, pie, cakes, cookies, muffins, and croissants), Maple syrup, Granola, Strawberries and more!

2. The Bell Churros
Based in: Rockford, IL
 
About: A local family-owned business making fresh churros, what more could you want!? Find their food truck at the market and in downtown Rockford! I couldn't resist trying both the strawberry and dulce de leche churros, and I can't decide which one won! Both churros were freshly made with their delicious fillings drizzling out. Also, The Bell Churros food truck gives 1 free churro to active police officers and firefighters.
Products: Sugar & Cinnamon Churros, Filled Churros (strawberry, chocolate, dulce de leche), Oreo Churros, Hot chocolate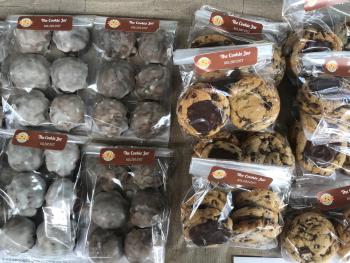 3. The Cookie Jar
Based in: Rockford, IL
Find them at: website TBA
About: The Cookie Jar is a brand new start up in Rockford, IL, and I was absolutely blown away by the quality of these sweets. Specializing in Italian cookies along with cakes, cake pops, and sugar cookies, you are sure to find the perfect treat at this City Market stand! I tried the Lemon Cookies (their most popular item). These cookies were light, flavorful, and actually melted in my mouth! I can only imagine how amazing the rest of these treats are, so go check them out yourselves!
Products: Italian cookies, cakes, cake pops, and sugar cookies
4. Disco Chicken Food Truck by Abreo
Based in: Rockford, IL
Find them at: https://www.facebook.com/discochicken815/
About: Sharing the owner of Abreo, Social, and Taco Betty's, Disco Chicken continues to keep things local by tapping into local vendors for their ingredients. Fun fact: The design on their truck was done by local artist Brett, Whitacre who also just completed a mural at 203 N. Church Street. 
Products: Fried Chicken Sandwiches of various flavors, Tater Tots with various flavors, Rotating "disco punch"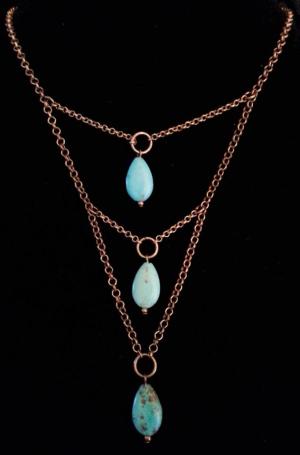 5. Eclectic Jewel
Based in: Rockford, IL
Find them at: https://www.facebook.com/groups/614374298629085/
About: Melesia Boyer has been making jewelry for 15 years. When she was young, Boyer started collecting vintage jewelry by fixing broken pieces and making them wearable. The name "Eclectic Jewel" comes from Boyer's personal style as her jewelry holds a vintage industrial vibe. The shop also uses natural stones, artwork and Rockford's area code 815 to style some lines of jewelry. The most important thing for Boyer is to keep her jewelry unique yet also affordable. With jewelry ranging from $15-$50, this may be the perfect rare find for you at the market!
Product: Jewelry (necklaces, earrings, pins, and more)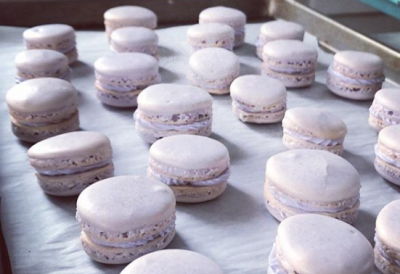 6. Eggily Bakes
Based in: Rockford, IL
Find them at: https://www.instagram.com/eggilybakes/
About: Whipping up delicious treats, Emily "Eggily" Grigg loves to bake! While still in college, Emily splits her time between studying and baking new sweets. Specializing in macarons, she has a wide variety to choose from. For the month of June, she will even be selling boxes of rainbow macarons to celebrate Pride Month!
Products: Macarons, brioche bread loaf and royal icing cookies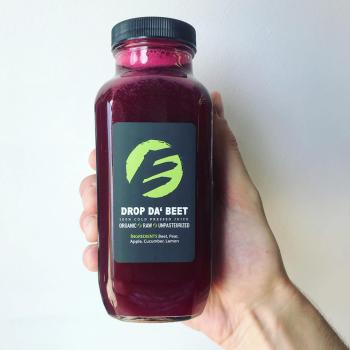 7. Elixir Juice
Based in: Rockford, IL 
Find them at: https://www.facebook.com/elixirfresh/  
About: As a startup company, Elixir is unique because their recipes are "culinary driven and sourced organic and locally when possible." Some local ingredients of theirs will include: Anderson Organics, Laars Fruit Farm, and SugarStone as well many other organic suppliers. These cold-pressed juices left me feeling both healthy and refreshed at the Friday City Market.
Products: Cold pressed Juices and lemonades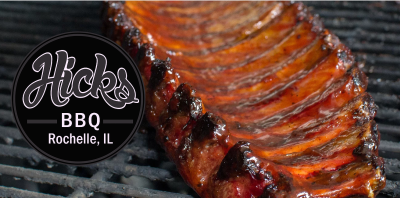 8. Hick's BBQ
Based in: Rochelle, IL
Find them at: https://www.hicksq.com/
About: Family owned and operated, Hick's BBQ is always serving freshly sliced (never reheated) food out of their trailer. These prime cuts of meat are seasoned with only the finest ingredients and slow-smoked to the perfect tenderness. Also, all sides are made completely from scratch! Their services include their food truck, catering for weddings or private events, and pick up & delivery options. 
Products: Brisket Pork, Bbq Nachos, Hot links, Chicken, Pastrami Ribs, BBQ sides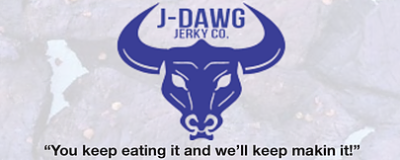 9. J-Dawg Jerky
Based in: Rockford, IL
Find them at: https://www.jdawgjerky.com/
About: Founded in July 2018, Mike began experiencing with jerky and "hit a home run" as his friends would say. Today, the locally-owned company is named after Mike's son, Jason, who is their biggest fan. J-Dawg Jerky continues to slow-smoke (and not dehydrate) quality cuts of 100% beef with the perfect blend of spices resulting in their jerky being tender and not dry. For their Whiskey flavor, J-Dawg jerky uses a local 5-year-old American Gold Whiskey from Rush Creek Distillery in Harvard, IL. Three more delicious flavors will be coming soon this summer! **Discount deal!** If you purchase 4 or more bags of jerky, you will receive $1 off PER bag. If you love jerky as much as I do, then this vendor is a must-see!
Products: Slow-cooked jerky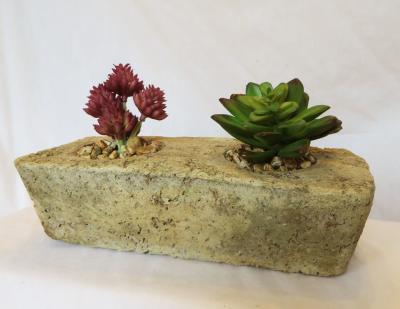 10. Juxtaposition
Based in: Rockford, IL
Find them on Facebook
About: Misha Shebesta is a Chicago artist that "left the big city for the lovely, slower place of Rockford." All products are designed and made by Shebesta herself. Shebesta shares, "I love working with cement and redefining it as a beautiful medium for inside and out of everyone's home."  
Product: Hypertufa pots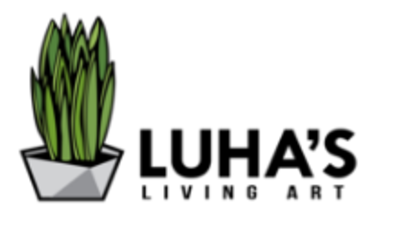 11. Luha's Living Art
Based in: Loves Park, IL
Find them at: https://www.luhasart.com/
About: Selling artistically designed plants, Luha's mission is to plant life and art indoors. They hope to spread health and beauty with their artistic arrangements. Their artistic planters can be found at 6116 Mulford Village Dr Ste 15 and on their website. Luha's also has corporate interior planter design packages and unique centerpiece decorations for weddings and events. Check them out, and maybe you'll go home with a new plant pet!
Products: Arrangements of various succulents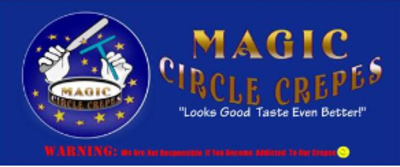 12. Magic Circle Crepes
Based in: North Chicago, IL
Find them at: https://www.facebook.com/Magic-Circle-Crepes
About: These delicious crepes are crafted right in front of your eyes. Choose your craving of sweet or savory, and then pick any flavor off their menu. I was lucky enough to try a sample of their Veggie Pesto crepe, and it certainly left me needing more!
Products: Sweet and Savory Crepes made to order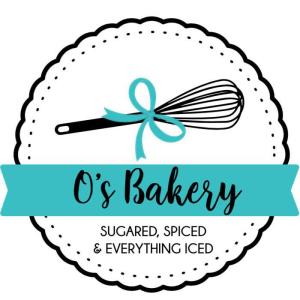 13. O's Bakery
Based in: Oregon, IL
Find them at: https://www.facebook.com/osbakeryil/
About: Starting her own business three and a half years ago, Olivia creates made-from-scratch and custom-decorated sugar cookies for any occasion! After graduating college in 2017, she now sells her bakery treats at farmer's markets and in her own storefront which she just opened in April 2019! Currently, Olivia is only taking custom orders and would need one week notice for most. Stop by her stand at the City Market for both gorgeous and delicious treats. 
Products: Decorated sugar cookies, Variety of other cookies, Cupcakes, Small cakes and more!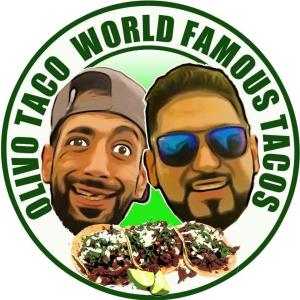 14. Olivo Tacos Food Truck
Based in: Rockford, IL
Find them at: https://www.facebook.com/OlivoTaco/  
About: Olivo Tacos started as a local Mexican restaurant, located in Rockford, IL. After years of receiving compliments about their tacos, they decided this was their first priority. Now, Olivo Tacos has three taco carts around Rockford. With 3 for only $5, you would regret trying out these amazing tacos (you have my word)!
Products: Steak Tacos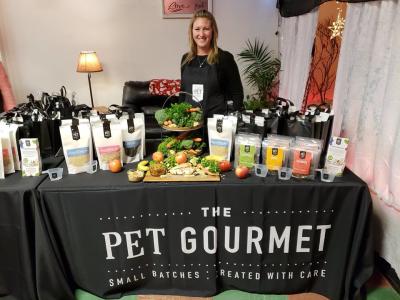 15. Pet Gourmet 
Based in: Northern IL 
Find them at: https://www.thepetgourmet.com
About: The Pet Gourmet treats our pets like family, as they should be! By using healthy food and real ingredients, they have created simple, gourmet meals (and they won't break the bank either!) The wholesome options can be customized to pets' tastes and diet plans. Once you have picked out your meal, you only need to add water, and your pet's meal is ready to be served! If you aren't able to stop by their City Market stand, be sure to check them out online and order products to be delivered right to you door. 
Products: Dehydrated dog food, functional dog treats, protein toppers, all natural pet products

16. Savor BBQ
Based in: Rockford, IL
Find them at: https://www.facebook.com/savorbbqco/
About: Rockford's only mobile BBQ business!?! Savor BBQ is serving up a variety of slow-smoked quality meats Fridays at the City Market. I tried their "Whole Hog Pulled Pork Sandwich," and boy, was I impressed! They definitely bring the best of the South to Rockford. 
Products: Whole hog bbq Brisket, Nashville hot chicken, Alabama white chicken, Beef ribs, Pork ribs, Baked beans, Sides (Potato salad, Cole slaw, Macaroni and cheese, and Cornbread), Bread pudding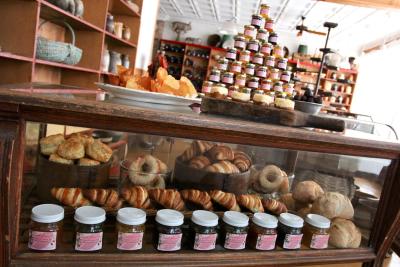 17. Sweet Jacquelina
Based in: Warren, IL
Find them at: https://www.facebook.com/sweetjacquelina/  
About: Located in small town Illinois, Sweet Jacquelina enjoys celebrating all of life's moments with their hand-crafted desserts. The pastry chef, Jaclyn Fjestad, is a self-taught baker, candy maker, and preserver. Her business began out in California and has, fortunately, made it here to Rockford. Go visit her, and bring some of these yummy treats home. 
Products: Croissants (Traditional, Chocolate, Almond, Chocolate Almond, Kouign Amann), Marmalades, Cookies, Cupcakes, and Confections
18. Synergy Collective
Based in: Rockford, IL 
Find them at: https://www.facebook.com/SynergyCollectiveShop/
About: Synergy Collective has been selling their products on Etsy since 2018 and have now brought their products to the City Market as well! This mystik market believes in the "power of positivity & good vibrations and want to spread it all over Rockford!" If you go check them out, be sure to follow them on Instagram or Facebook, and you'll receive a free gift from the shop.
Products: Quality healing crystals/gemstones (many of which are hand-wrapped into jewelry or keychains), sage and smudge kits, hanging planters, wall hangings & macrame pieces, hand crafted wood shelves, dream catchers and handmade jewelry
19. Velvet Robot Coffee
Based in: Rockford, IL
Find them at: https://www.facebook.com/vrcoffeelab/  
About: As a cold brew company, Velvet Robot Coffee uses the finest coffee around. Currently serving up special coffee at the City Market, Velvet Robot will be opening their own storefront at 303 Mulberry St VERY soon!
Products: Cold Brew Coffee, Hot Coffee, Hot Chocolate, Logo T-shirts, Bagged Coffee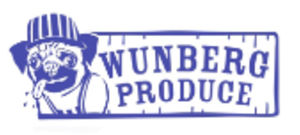 20. Wunberg Produce
Based in: Sharon, WI
Find them at: http://wunbergproduce.com/
About: In 2014, Kenneth Wundrow and his partner, Robert Wesenberg, converted Wundrow's father's old cornfield into a berry field all by hand. After a year, they finally sold their first batch of strawberries, and their produce sales took off! In years to come, they plan to have a "full-fledged 25-acre berry farm and orchard with a country store." 
Products: A wide array of fresh produce, ranging from all seasons. Whole foods, dried herbs, vegetables, jams and jellies, petting zoo, and countless other products and attractions
21. You're Bacon Me Crazy Food Truck 
Based in: Rockford, IL 
Find them at: https://www.facebook.com/Youre-Bacon-Me-Crazy-306917776530302/
About: Sharing the owner of Vintage@501, this new food truck is up and running! While Vintage features an Americana theme with casual pub food, You're Bacon Me Crazy Food Truck continues to serve the same great food. Watch out for their truck at the market and around the streets of downtown Rockford. 
Products: American pub food