Nothing says summertime like seeing food trucks roll up to your favorite community spots. There's just something about eating outside that says, "The nice weather is here to stay!" Whether you're looking for a way to break up your lunch routine or wanting something that the whole family can enjoy - food trucks are your answer. Aside from offering tasty, affordable meals, food trucks also provide a strong sense of community.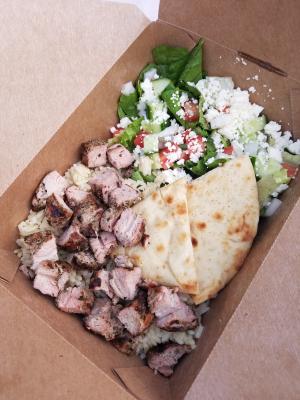 Greek Rice Bowl with pork tenderloin
That's exactly what local Greek food truck The Olive Branch is doing. "We are passionate about giving back to the community in many different ways. From offering 10% fundraising cash back to providing food at local school events," says Michele Christidis, wife of The Olive Branch owner, Bob Christidis, "We are proud to be creating food truck culture here in Rockford, and we do our best to provide not only great food and service, but [also] get families out of the house and get them connecting over our food!"
Greek Street Fries
Speaking of which, local food truck culture has greatly developed within the last few years with the addition of new trucks and a wider variety of food options. The accessibility to customers and embraced community collaboration is what makes food truck culture so strong. "Compared to a brick and mortar, we are able to go to the people until [they] know how to find us," Christidis says, "Another thing we love about our particular business model is working with other entrepreneurs! We have solid relationships with many local brewing companies and wineries. They have the alcohol and we have the food - works out good for all parties!"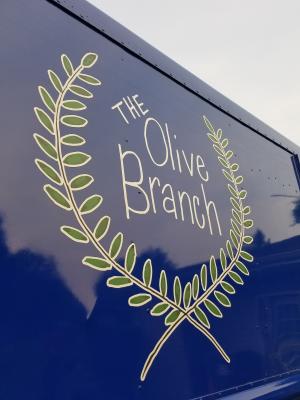 One of the main inspirations for The Olive Branch was having control of their calendar. Along with a family history in the local food scene and wanting to provide Rockford with authentic Greek food, The Olive Branch wanted a business that would fit with their lifestyle. Christidis recalled, "We knew being married to a restaurant was not what we wanted. We wanted to design the hours and make the business work around our family. Plus, we love the idea of being mobile. We are on the move all the time and building so many relationships with other entrepreneurs along the way!"
The Olive Branch truly encapsulates what food truck culture is all about - community. They put their heart and soul into the quality and authenticity of their food which translates into their involvement around the Rockford region.
For more information about The Olive Branch and where they'll be located next, check out their Facebook page.
Not feeling like Greek food today? Check out these other awesome businesses contributing to food truck culture in the Rockford region:
15th & Chris
The Bell Churros