Time to break out the hot tea and practice my vocal warm-ups because Stroll on State is NEXT WEEK, and I can't wait to sing along to my favorite holiday songs all night long! There is just something so magical about standing in the middle of State and Wyman Streets surrounded by loved ones belting your heart out to Mariah Carey's "All I Want for Christmas Is You." Yes, that is my favorite holiday song and yes, I am a millennial. But at Stroll on State, there's something for everyone to enjoy from live music to theater to caroling! There are four outdoor and two indoor performance venues, so grab a hot chocolate and put on your comfy shoes and get ready to explore all that Stroll on State has to offer!
MERRY & BRIGHT STAGE
Sponsored by Gallagher Williams-Manny
(Located at W. State Street & Wyman Street)
2:00 p.m.
Stroll on State's Merry & Bright Parade, hosted by WREX News Team Kristin Crowley and James Stratton.
5:45 - 6:45 p.m.
Join Mayor Tom McNamara, RACVB and Heartland Community Church Band to sing along and celebrate the lighting of the Official City of Rockford Christmas Tree (sponsored by Northwestern Illinois Building Trades)! Tree lighting and Sky Lights Fireworks show (presented by Pierce Distribution) will light up the night at approximately 6:15 p.m.
7:00 - 9:00 p.m.
Luxe Productions DJ - Dancin' In The Street
JINGLE BELL STAGE
Sponsored by PCI-Pharma Services
Hosted by B103
(Located at N. Main Street & Mulberry Street)
3:00 - 4:00 p.m.  
Tuba Christmas - In 2019, TUBACHRISTMAS concerts have been presented in over 300 cities around the world.  Created by Harvey Phillips, the event features performances of traditional Christmas carols especially arranged by American composer Alec Wilder.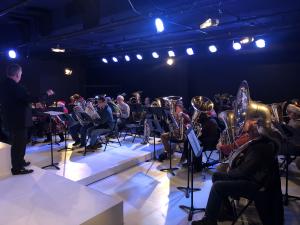 4:30 - 5:30 p.m.
Kristina Puzin - Local to the Rockford region, the eighth grader has enjoyed sharing her talents of singing, playing piano and acting since a young age.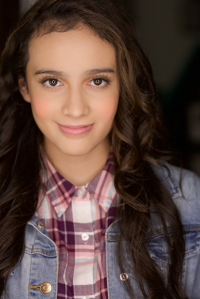 6:30 - 7:30 p.m.
The Kujawa Brothers - Hailing from Milwaukee, WI these classically-trained brothers and their family from Rockford have a passion for rock, jazz, and anything that gets people moving!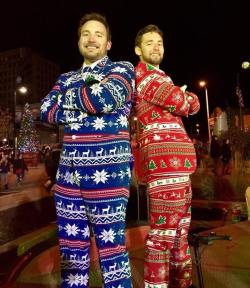 SILVER BELL STAGE
Sponsored by PCI-Pharma Services
Hosted by 95.3 The Bull's Steve Summers
(Located at E. State Street & 2nd Street)
3:00 - 4:00 p.m.
That Gurl - That Gurl is a 70's cover band made up of experienced performers from different musical backgrounds who came together to create music for all ages.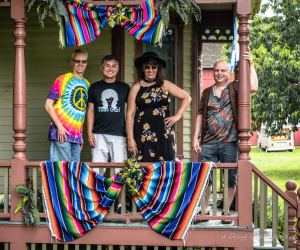 4:30 - 5:30 p.m.
Unsung Heroes - The Unsung Heroes are an upcoming alternative rock band out of Rockford, Illinois. Their original Christmas song called "This Holiday" will be performed at Stroll On State along with a bunch of Christmas covers.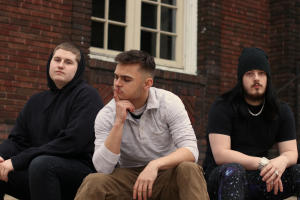 6:30 - 7:30 p.m.
Matt B - International singer & songwriter 'Matt B' was born and raised in Chicago, IL. He signed to StarBase Records Japan as of July 2014.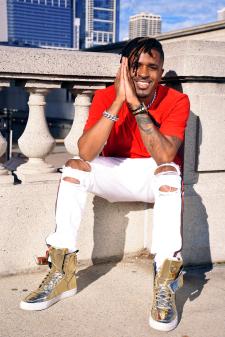 8:00 - 9:00 p.m.
Dingo - a three-piece, all-original indie rock band from Rockford, Dingo has a rocking, catchy sound that they call "lounge punk."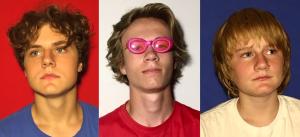 SLEIGH BELL STAGE
Sponsored by PCI-Pharma Services
(Located at E. State Street & 1st Street)
4:15 - 5:00 p.m.
Christian Youth Theater - CYT (Christian Youth Theater) is a youth theater company, for 5-18yr olds, that focuses on educating students in the arts through classes, camps, and shows.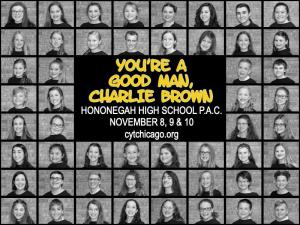 6:45 - 7:30 p.m.
Marshall Strolling Minstrels - Third Graders from Thurgood Marshall Elementary - RPS205 have made Stroll on State a yearly tradition delighting audiences with their spirited holiday selections.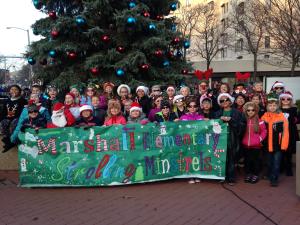 VETERANS MEMORIAL HALL
Sponsored by Ironworkers Local Union 498
(Located at 211 N. Main Street)
3:00 - 9:00 p.m.
Once Upon a Dream Performances: Character Meet & Greet
(Meet and greet with all of your favorite characters, including princesses, superheroes and magical holiday guests! Bring your camera for pictures).
4:30 p.m. & 7:30 p.m.
Starlight Theatre presents "A Christmas Story"
 
NORDLOF CENTER
Sponsored by David & Colleen Anderson
(Located at 118 N. Main Street)
3 p.m., 4 p.m., 5 p.m., 7 p.m. & 8 p.m.
The Studio Rockford presents "NEWSIES"
For more information on the 7th annual Stroll on State, check out our website at gorockford.com/stroll-on-state.