There are some people who take their Christmas decorations down in a timely manner after the holidays. And then there's me. There are some years where I get my tree and decorations packed up and put away a week or two after Christmas, but most years my decorations linger a little longer. I look at them and think, "Oh I'll put things away this weekend." But then the weekend comes and goes, and the decorations are still up. Eventually once the end of January rolls around, I get more motivated to put things away and they eventually do make their way back into the basement until next December.
I should take note from the volunteers and organizers of Stroll on State and the downtown decorating, because they make the clean-up look like a breeze! Every year in early January, we have "back in the box" day for the Stroll on State decorations (this year, it's Saturday, January 11). It's the one day of the year where all the lights, giant presents, and other décor items get packed up and put away until the next Stroll on State.
Yep, you heard right. All of those decorations get put away in one day. How do Santa's elves pack up everything? I'll fill you in!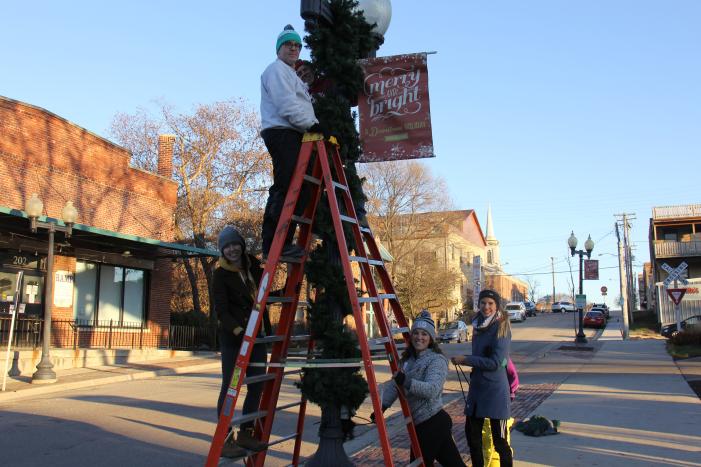 Volunteers can sign up to help at www.gorockford.com/stroll-on-state/volunteering for either the morning shift (8 a.m. – Noon) or the afternoon shift (1 – 5 p.m.)…or both! There are a variety of tasks for packing things up throughout the day. All lights and ornaments need to be taken down from the trees, giant presents and bows need to be picked up and stored, and even the City of Rockford Christmas Tree needs to be taken down. Once volunteers gather all of the decorations, trucks come to pick everything up to take to storage. So you don't have to worry about carrying those giant presents across downtown by yourself! But then where does everything go?
Most of the decorations, signage, and other Stroll-related items are stored in the Sharefest building in downtown Rockford. If you've ever been in it, you'll see that it is truly Santa's Workshop with all of the supplies and décor items stored there. But did you know that some of the outdoor decorations are stored in a different building? All of the string light trees and the elf houses from Strollville are stored…under the Jefferson Street Bridge! There is a storage area right behind the unique underwater mural where these decorations live for most of the year.
Once everything is put into storage, the decorations and everything will be organized so things can be ready to go for the next Stroll on State! Saving and preserving these decorations is really important for Stroll on State. If things are kept looking nice, we don't have to worry about repairing old decorations, and can rather focus on making new ones to deck out downtown even more during Stroll on State!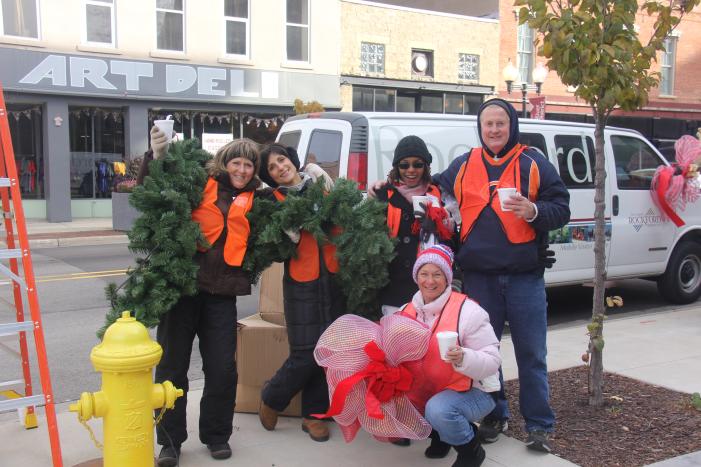 Just a couple helpful tips when you volunteer for "back in the box day," make sure you dress for the weather. I don't think there will be any giant snowstorms before January 11, but you will want to make sure you dress warmly. I have found it helpful to have hand warmers! If it's especially chilly, I'll even put some in my shoes to keep my toes warm. You can also volunteer as individuals, or maybe you want to get your family/friends/coworkers together to work as a group! In any case, signing up to volunteer is easy as can be. Just pop on over to www.gorockford.com/stroll-on-state/volunteering to sign up for a shift or two! Lastly, when you're done volunteering, spend some time downtown! You've worked hard so you deserve to kick back and relax. There are plenty of awesome downtown shops and restaurants just waiting to be discovered. (Bonus: some of the local businesses downtown love the "back in the box" volunteers so much that they offer some perks! Be on the lookout for businesses offering specials, hot cocoa, and places to warm up as you work.)
Just like the Stroll on State decorating days, "back in the box" day is just as much fun. Downtown is full of happy, helpful volunteers who make the day a blast. Maybe the "back in the box" day will even motivate me to put away my Christmas decorations at home too!