It's time to start floating around ideas for the 4th Annual Rock River Anything That Floats Race, Sunday, August 18th. The annual raft race, which first began in 1976, has attracted tens of thousands of people over the years as contestants, volunteers and spectators. In one year alone more than 80,000 people lined the Rock River to cheer on the inventive racers. After a brief hiatus, the race returned in 2016 and has become a novel tradition for new generations of Rockfordians to love and experience. Last year's race had 40 raft entries and drew a crowd of approximately 20,000 spectators!
Want to race but not sure how to get your feet wet? First things first, gather your friends, family or fellow race enthusiasts and register a crew online at http://rratfr.com/register. The entry fee for a raft is $100 and all proceeds will benefit the Rockford Fourth of July and Holiday Lighting efforts, the Rock River Trail Initiative and the Ski Broncs. A mandatory Captains' Meeting will be held on August 5th at the Prairie Street Brewing Company (social hour to follow, of course). Once you're officially entered, it's time to build ANYTHING that floats!
Looking for some tips before you set sail on your raft construction? Consider these basic elements when designing your raft – floatation, deck, propulsion and steering. Below are some suggestions to help keep you afloat (literally and figuratively) in the competition.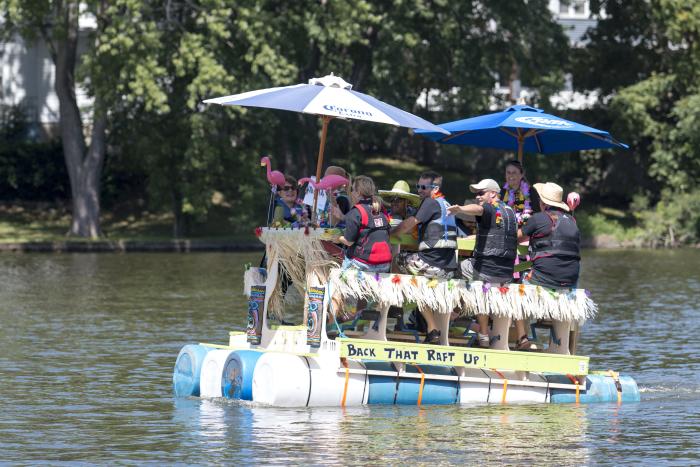 FLOATATION
Some good materials to consider for floatation are foam, plastic barrels (caps a must) or bottles and paint buckets. Remember, rafts do not need watertight integrity, they just need some combination of materials that are naturally buoyant. Foam is a popular material used on rafts and can either be attached to a wooden frame or used as fill for a wooden frame structure. If you can't find any reclaimed foam, it can usually be purchased from a big box store. Barrels are also a popular choice due to the varying sizes, natural buoyancy and durability. Just remember to include enough floatation in your raft to support the size of your crew. Once you've determined your material of choice, you can find a number of online floatation calculators to assist in your estimations.
DECK DESIGN
The deck of your raft needs to be strong enough to support your crew and gear and large enough to allow for rowing or paddling. A common approach to deck design is the use of plywood attached to some type of wooden frame. Your floatation materials can then be attached to the underside of the wooden frame with tie-downs. It is important that when building your deck, you make sure to use screws and not nails as nails can come loose and work their way out.
PROPULSION
With your raft taking shape, your next step is to determine your means for propulsion. While your raft will drift downriver from the current, it's a good idea to add other means of control for your raft's direction and speed. The easiest way to add propulsion to your raft is with the use of paddles, oars and/or a sail. If you really want to up your game, you can look into building a pedal powered paddle wheel or propeller.
STEERING
While smaller rafts can easily be steered using paddles or oars, you may want to consider adding a rudder to your raft. For a basic rudder, tie an oar to the back of your raft or invest in a sturdier rudder with a handle that is hinged to the back of your raft.
Now that you have a basic knowledge of the basic concepts of raft building, it's important to keep in mind that a successful raft entry will also require plenty of teamwork and a lot of testing. You will also want to keep in mind that creativity counts when it comes to the Rock River Anything That Floats People's Choice award. In need of some creative inspiration? Check out the behind the scenes video of last year's People's Choice winner, The Spirit of Survival – http://rratfr.com/gallery.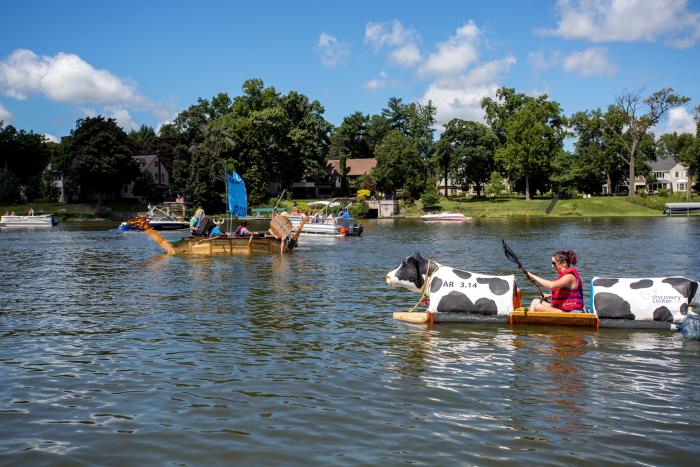 RACE DAY SCHEDULE
10:00 AM – Raft sign-in begins  
 
10:00 Live radio remote, entertainment, food, and drinks at race start line area on Illinois Street near old Coast Guard Station 
 
11:30 AM – Raft race registration ends
 
12:00 PM – Anything That Floats Raft Race begins!
 
12:00 - 1:30 PM - Live music will be performed by The Gilligans for spectators from a barge patrolling the river. Listen up! 
 
3:00 PM - 6:00 PM - Blind Date performs at Prairie Street Brewing Co finish line 
 
3:30 - Chuck-a-Duck Drop off Whitman St. Bridge 
 
4:30 - Awards Ceremony at Prairie Street Brewing Co finish line