Sure, this winter weather makes me want to grab some hot chocolate or a caffeine boost from one of our many local restaurants and coffee shops, wrap up in a blanket and watch a movie (or two), and hit the easy button and order pizza or tacos for delivery. But I'm an outdoor enthusiast at heart and, lucky for residents and visitors of the area, the Rockford region has so much to offer year-round—and, yes, that includes the rest of this snowy, winter season!
So what are some fun things to do during the winter in Rockford? Here are my top 3 picks for this year:
Snow Park at Alpine Hills
Yes, we can snowboard, ski and tube all in one location in Rockford!! I've actually never really snowboarded before (except for in my parents' backyard when I was 10...but I don't think that counts), so I'm eager to hit the local slopes again this year with my friends and family. What's awesome about Snow Park at Alpine Hills  is that even if there's no snow on the ground, they will MAKE THEIR OWN. And they are making enough snow (when it's snowing naturally, of course) to build a four-foot base for the terrain park—a snowboarder's paradise—and they also are offering an outdoor skating rink. What an awesome place to get away from it all, get outside—and right here in the heart of Rockford! 
WINTER WALKS & HIKES AT SEVERSON DELLS
The healing power of taking a walk is always a winner—especially on a brisk, winter day with snow covered Forest City trees and terrains! Take a break from the winter indoor blues—best to pick a sunny day—and join the Severson Dells staff for a guided walk along the trails in search of the region's native wildlife. Added bonus—they have hot cocoa waiting for you after your walk is complete. Just be sure to dress warm, be ready for a mile-plus hike over moderate winter grounds, and bring the family for this awesome FREE activity!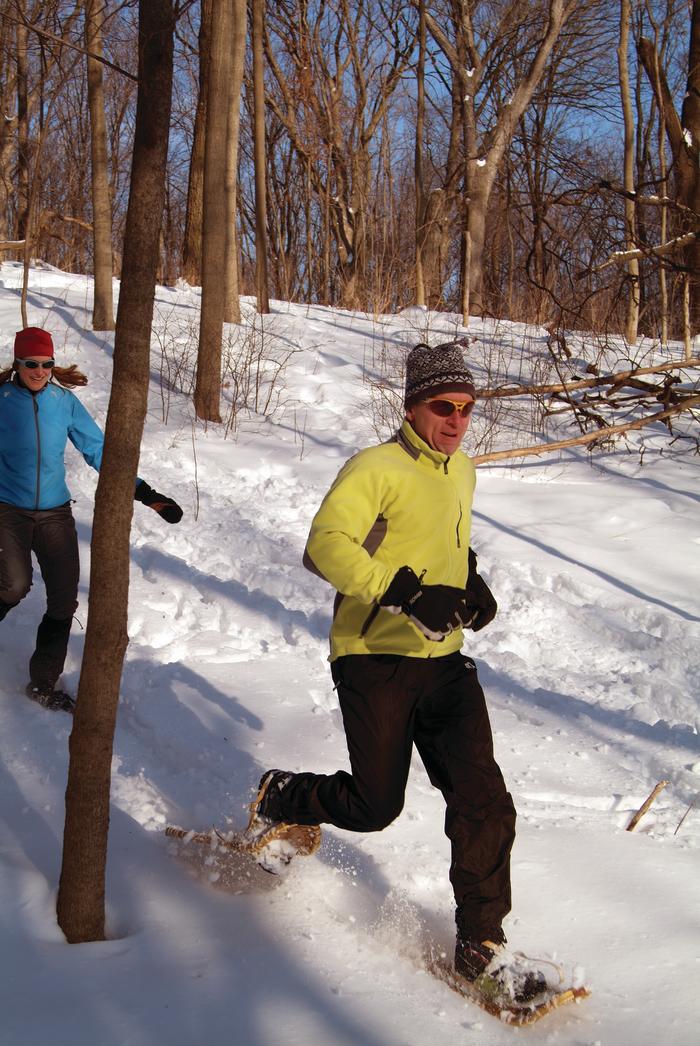 CROSS COUNTRY SKIING & SNOWSHOEING WITH ROCKTOWN ADVENTURES
I actually have been cross country skiing before...once or twice that is! Lucky for us, there are groomed trails in Rockford's city limits at Sinnissippi and Aldeen golf courses—and you should also check out the trails that Rock Cut State Park (Loves Park) and the Forest Preserves of Winnebago County (countywide including Deer Run in Cherry Valley) have to offer! Experts and beginners are all welcome, thanks to Rocktown Adventures which holds snow sports courses with equipment rental options aplenty. Although chances of wiping out with these two activities are significantly less than downhill skiing or snowboarding, snowshoeing and cross country skiing are still both quite a work out!
I hope this list helps you plan your next outdoor winter adventure this year! There are plenty of other fun outdoor activities in the area (read about them HERE). Hope to see you outside enjoying our snowy regional landscape!