I recently changed employers and landed an awesome gig at a new company. I'm extremely happy with the transition thus far, the only complaint I have is that my blouses and pencil skirts are getting too tight because now I'm only five minutes driving distance from my favorite restaurant, Marcs Fusion Café. Lunch, dinner, carryout: it's just way too accessible now. I've honestly been waiting for that moment when I start to tire of their food but it just hasn't happened yet ­­-- I don't think it's possible. I've tasted things here that make my eyes roll to the back of my head. Rockford, in general, offers solid sushi, but Marc's is unequivocally special.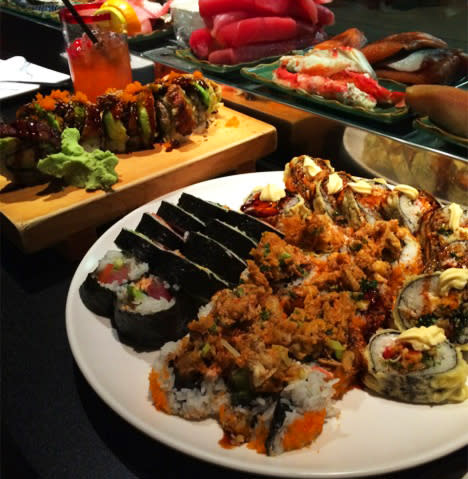 If you don't look hard enough you could easily drive past it and not know it's there. Marc's has a Facebook page but doesn't update it. They don't IG. You won't see commercials or advertisements for them anywhere either. It's small too, like 45 person capacity small.  It's dark in there, and there's barely a place to stand and wait for a table. They don't stay open too late, and they're closed on Mondays. Oh, and did I mention they don't take reservations either? Seems like the challenges just add up but those are simply the quirks you happily accept because frankly, that's what gives them their character. It's shocking how many locals I meet that have never been there, some have never heard of it or some just haven't had the opportunity to try it yet. It's as if those that know of it are almost a part of a secret society.
So let's start by breaking down their menu in stages, beginning with the drinks. I've seen wines poured, mixed drinks come out and shots. I've even seen a few sodas emerge from the "black curtain," but all I ever order is the Mai Tai….because nothing else matters. They offer a small for the amateurs and a large for everyone else. The Marc's Mai Tai is major. They're magnificently potent and they're presented to you with these mesmerizing swirls of brown rum throughout. Sometimes you don't need the next best thing when you can simply enjoy the classics done right! These are lethal, I highly suggest you drink these responsibly as even on a full stomach they're on another level.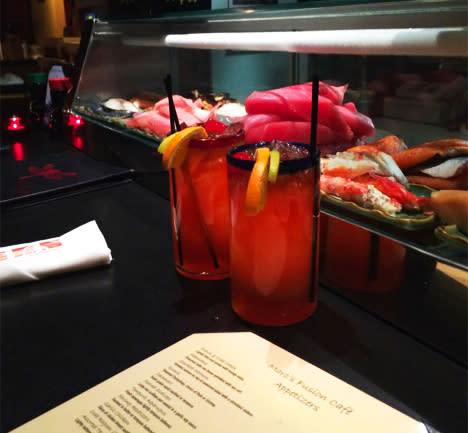 Marc's is generous with their portions so I'm not really sure why I even order their appetizers. Actually, I do know: I'm greedy. The sautéed shrimp is a great choice, it's packed with such tremendous flavor I'm sort of inclined to believe they sauté them in bacon drippings. The smoked salmon appetizer is done so clean and well. There are some really tasty, healthy options too on your pretend-diet, such as the Cucumber Seaweed Salad or the Miso Soup. Moment of silence for Marc's fried rice, though. The fried rice is flavorful, it's delicious, it's also enough to be an entrée in itself but, yeah right. You can order it with various meats: shrimp, chicken, beef, and scallops. I've had them all, none have disappointed me. I'm by no means a vegetarian but lately, I've been skipping the meat altogether and ordering the vegetable fried rice and it satisfies me just the same. It also has asparagus spears in it … need I say more? I recently lunched with a friend that requested a custom order of scallop and shrimp fried rice that I just kind of longingly stared at wishing I had have thought of it first.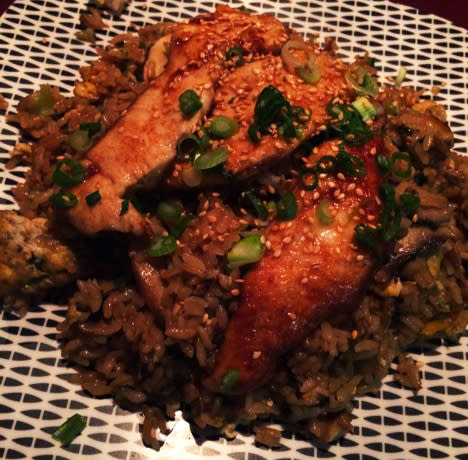 The sushi bar is front and center; that's where you'll find Marc himself single-handedly pumping out sushi for the entire restaurant. The rolled sushi is where this restaurant just takes things up a notch. This is not the place for a "sushi face" novice; if you stick to traditional rules of placing the entire piece of sushi into your mouth your cheeks will certainly expand. (Warning: if you come here for a date you'll need to mask your insecurities about having a mouth full of food.) You definitely get your money's worth here; they are absolutely not stingy with their rolls. Some of my personal favorites are the Marc's Fusion (tuna and cilantro), Krome (tempura eel and crab), the Dragon (eel and avocado) and Hannibal (fried chicken, cilantro, and tomato). For the vegetarians out there are several meatless rolls on the menu as well. I'm personally more of a maki fan (rolled sushi) but for those that are into raw sushi, they offer a wide variety of that, too. Marc's receives a daily delivery of fresh fish from a Chicago vendor which is evident by the quality and taste.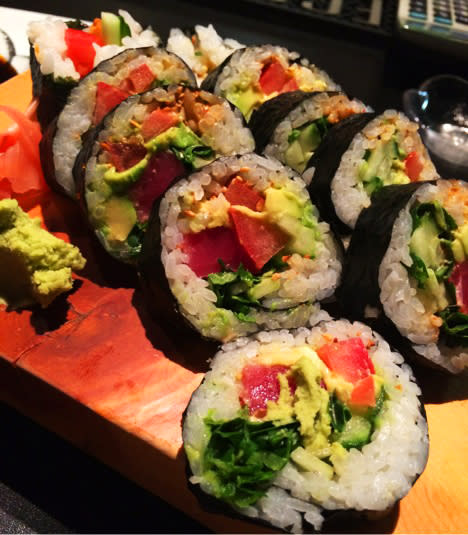 Don't' forget that this is a Fusion establishment; if sushi isn't your thing there are plenty of other choices. The steak kabob, pork chops, and steaks come in cave man size. I always get a kick out of patron's faces when any of those entrées are placed in front of them. It's this overwhelming moment of shock, awe and watching them say, "how am I supposed to eat all this?" I've seen couples and friends order these items and split them due to how large they are, and it's a really great idea. There's also the Jim's Fusion rice which is beef, chicken and shrimp fried rice with a garlic butter sauce drizzled over the top.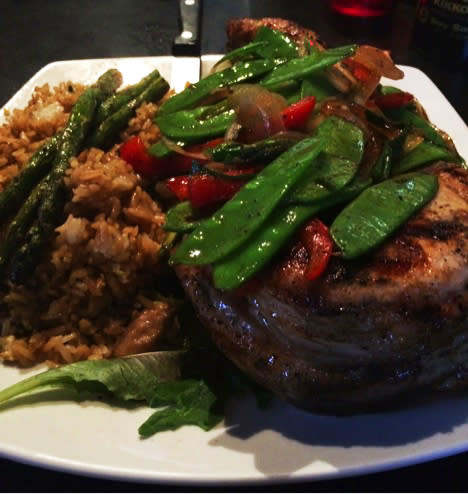 I think Marc's offers one of the most unique dining experiences this city has to offer. It's non-commercial, they've completely established their own identity and it's authentic. When the dragonfly is set down in front of you, just know you're in for a treat. Consider a seat at one of the bars too; it's just better. I've heard rumors they've purchased the space next door and are expanding, but personally, I'm happy with things just the way they are. There's just something about visiting a locally owned restaurant that still hand-writes your bill and uses a calculator to figure it! Don't ever change Marc's, don't ever change.
Marcs Fusion Café is located at 4133 Charles Street, Rockford, IL 61108 (815.713.2563)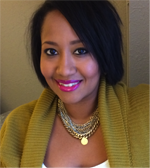 A native of Rockford, Gabrielle Torina interns for an aerospace corporation, and serves as the Secretary for the Wabongo Leadership Council. In her spare time, she enjoys eating local, wine tasting, Duke basketball, and travel.