When people talk about the spectacular fall colors in the Forest Preserves of Winnebago County, many times they are referring to our maple forests. The maple trees' yellow, orange and red leaves create swaths of blazing color among the oaks' subtler browns in our woodlands. Prior to settlement in the early 1800s, maple trees, which are fire intolerant, grew only in areas protected from natural fires, such as river corridors. As a result, maples were relatively scarce. In the last 200 years of human fire suppression, maples have become much more abundant throughout our wooded lands.
Fall colors are at their peak in northern Illinois, and Forest Preserves of Winnebago offer ideal opportunities to enjoy their brief glory. Here are a few recommended forest preserves for fall walks to discover the glorious forest and prairie colors, textures and aromas happening now.
Seward Bluffs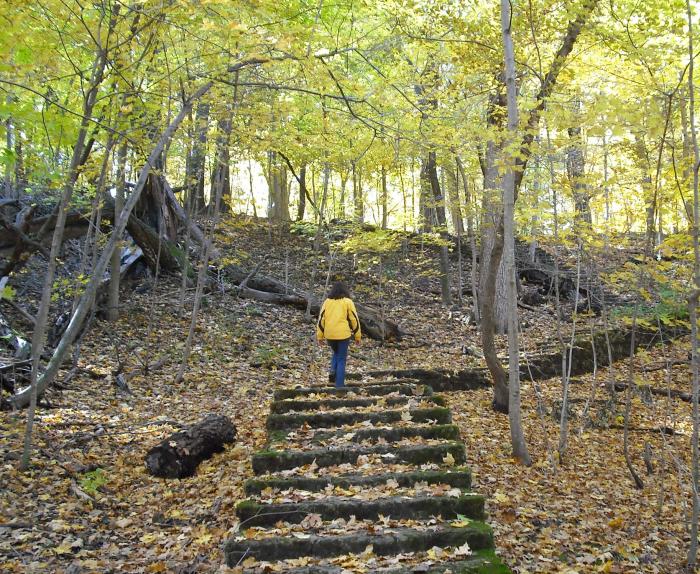 16999 Comly Rd., Seward, IL 61077
An inviting scenic overlook high on a bluff looks out over the Grove Creek valley and offers a bird's eye view of the preserve's golden display of maple forest and picturesque limestone bridge. Seward Bluffs' western section offers a trail hike through rusty-hued trees and grasses of the oak savanna. One reason I like visiting Seward Bluffs is that it offers such a variety of experiences all in one preserve. The original part of the preserve, on the east side, is a place to hike through mature forests atop limestone bluffs. It's the classic walk-in-a-fall-woods feeling. Also on the east side, Grove Creek offers its soothing babble as it flows at the base of the picturesque bluff on its way to the west portion of the preserve. On the west side I like to wander the grass trails among the head-high, waving, big bluestem grasses and think about what it must have been like for the pioneers to make their way through prairies as vast as the sea. And the gnarled branches of the trees dotting the rolling terrain seem to suggest that each bur oak has its own unique story.
Blackhawk Springs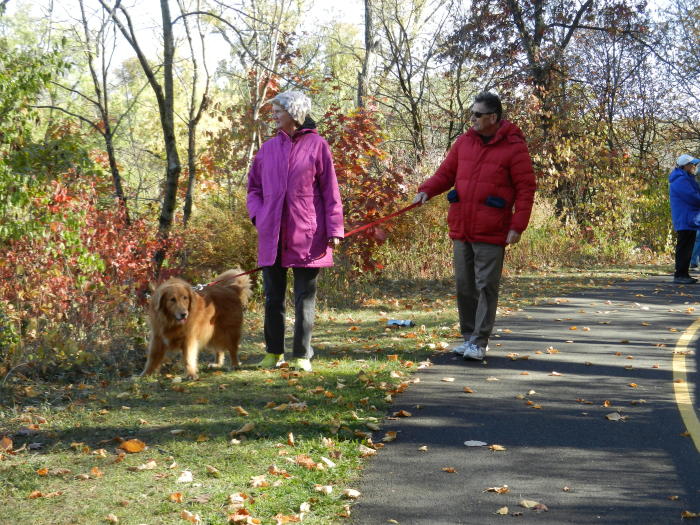 5360 Mulford Rd. & 5801 Perryville Rd., Cherry Valley, IL 61016
This popular preserve offers a two-mile paved recreation path, as well as a network of dirt and grass trails that wind through woods and prairie. Don't forget to check out the rich aromas and deep hues of the fall prairie! This preserve straddles the Kishwaukee River, one of the highest quality rivers in the state, and visitors can enjoy the unique opportunity to view the deep russet colors of oak forest and bright blue autumn sky reflected on the river. Sometimes I go for a combination workout and nature fix by taking to the paved path in my running shoes or on my bike. It's the best therapy there is! Blackhawk Springs is also where I have had some of my most exciting wildlife sightings. The Kishwaukee River is one of the healthiest in Illinois and supports a host of fish, turtles, frogs, mammals and birds. I've seen bald eagles here on several occasions.
Hononegah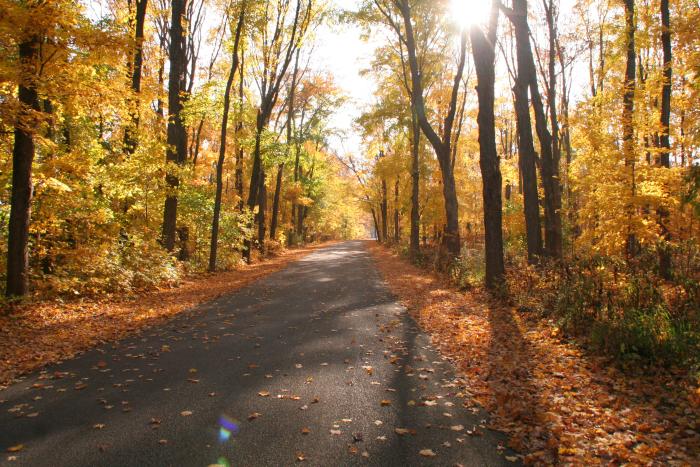 #80 Hononegah Rd., Rockton, IL 61072
This picturesque preserve was first purchased by FPWC in 1922 and contains one of the most mature woods in the county.  Hononegah's winding roads and bridges provide a nice fall drive-through, as well as walking opportunities. While walking Hononegah's 2.7 miles of trails you could stop and rest in the historic limestone Bird Grove shelter built in the 1930s by the CCC. Maybe because it's the oldest preserve, or maybe it's the very tall, venerable trees here, but walking at Hononegah conjures a sense of timelessness and I can't help but wonder about Ho-no-ne-gah, the Pottawatomi princess who lived in this here in the 1830s.
Klehm Arboretum & Botanic Garden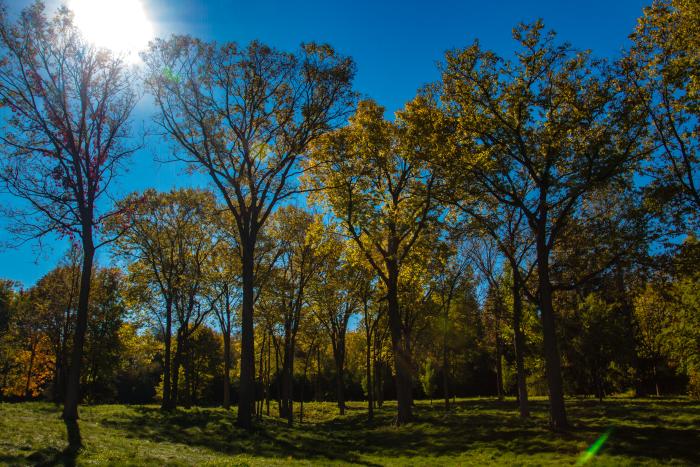 2715 S. Main St., Rockford, IL 61102
An astounding variety of trees can be found in this living tree museum. The collection boasts trees from around the world, as well as native species. Like Blackhawk Springs, Klehm Arboretum and Botanic Garden offers both a paved path and dirt/grass trails. Fall is an ideal time for birdwatching at Klehm because migrating birds are feasting on the many nuts and berries produced by trees and shrubs. Klehm is a place to connect with nature without venturing into the wilderness. When I have companions who are not sure-footed or are very young we take advantage of Klehm's paved surfaces, convenient parking, restrooms, and Visitor's Center. Like Blackhawk Springs, walkers, wheelchairs and strollers are welcome on the paved path.
Don't forget to watch for the hundreds of migrating bird species passing through our area. Visitors are welcome to experience autumn's delights in all 43 forest preserves. Learn more at winnebagoforest.org.