How I Started Volunteering
Have you ever heard a "call to action" message or presentation and there was a nudge in your heart to say, "I can do that, sign me up"? I did, I responded, and 11 years later I'm still active with Stroll on State.
My love for Stroll on State started November 22, 2013, when I first volunteered to help decorate Downtown Rockford for the new holiday event. As a lifelong resident of Rockford, I had no memories of attending a Christmas holiday event in my hometown as a child. This was a driving force behind my excitement, to be part of something that could create memories for years to come.
That first Stroll Decoration Day, I volunteered to wrap garland around light poles. As simple as it seemed, people driving by were honking their horns and thanking us for sprucing up E. State Street with holiday décor. By the end of the weekend, I was leading troves of bow makers as we were determined to have all the larger-than-life presents decked out to the finest.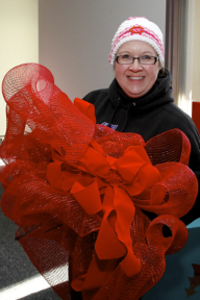 That first Stroll on State attracted 30,000 attendees, way more than was expected and I was there. I didn't attend it, I volunteered at it. The looks of awe & wonder on children's faces were magical and people were excited to see downtown look so alive and festive. My heart was full knowing I was part of something that brought hope and joy to my community that year.
From Volunteer to Leader
Fast forward to 11 years, I lead the amazing team of volunteer leaders and community members at the Stroll on State Workshop. Commonly known as Santa's Workshop from September to January, the building at S. Winnebago & Chestnut is the primary warehouse of the larger-than-life decorations for Stroll on State.
Week after week, volunteers meet to repair, renovate, and create decorations that will enhance the holiday season and Stroll on State itself.  100 string-lit trees are plugged in and tested before approved for use. Gift boxes are cleaned and repainted as needed. The larger-than-life lollipops get a fresh coat of paint & glitter before being placed on Lollipop Lane. So much happens behind the scenes prior to Stroll on State and we can't do it without the help of volunteers, organizations, and sponsors.
Volunteer at Stroll
This year, as we gear up for the 11th Stroll on State, we are looking for people with a passion and enthusiasm for the event and giving back to the Rockford community. You don't need any special skills; we will train you. Do you like to paint, work with your hands, or love glitter (lots of glitter)?? We will find a job for you! Do you have a special skill set, let us know.
The Stroll on State Workshops kick off Tuesday, September 12th.  Invite your friends, co-workers, and family to join in on the fun. For more information and dates to sign up check out here at  https://www.gorockford.com/stroll-on-state/volunteering/