I think most would agree that coffee truly makes the world a better place. While I normally just heat up a cup of coffee at home, I decided to change up my routine and visit some of the top coffee shops in Rockford, IL. Luckily, I'm not very picky, so as I visited each shop, I let the barista pick out what drink I should order, and here are the results!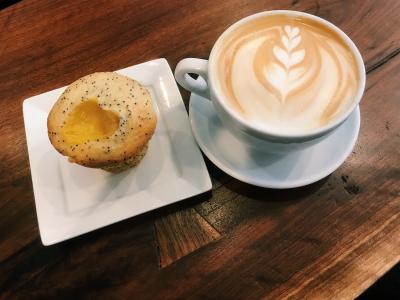 For the true coffee drinkers:
Rockford Roasting Co
My first stop was Rockford Roasting Co ("Ro Ro Co" as some may affectionately call it). After exploring their unique menu that includes house-brewed espresso and seasonal specials, I ordered a warm latte and lemon poppyseed muffin. Not to my surprise, the latte tasted EVEN better than it looked. Rockford Roasting Co is a one-of-a-kind space that can function as a relaxing place to do work or a comfortable area to meet with others. The two-level shop boasts different arrangements of tables, a bar, and bench seats to welcome anyone and everyone to come in and try something new. Besides coffee, Rockford Roasting also has tea, hot chocolate, lemonade, and a collection of sweet treats to curb any craving! Come find their coffee in shop or featured in a variety of ice creams at the Dairyhaus in Rockton too!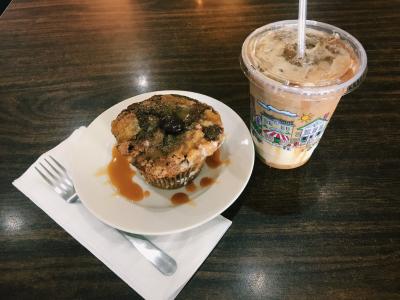 If you want to grab a bite of food with your coffee:
Second stop -- Wired Cafe! After requesting a drink that would best embody Wired, Crystal suggested an iced caramel macchiato but with her special spin! Crystal loves to replace the caramel flavoring with toffee nut instead. I obviously replied with an enthusiastic "YES!"  I also decided to order their Wired Signature Muffin which hosts flavors of espresso and chocolate. **Insider secret!** If you order this muffin to eat in house, Wired Cafe will heat it in the oven and drizzle warm caramel over the top! Can you say "Yum!?" Wired Cafe has an inviting atmosphere and serves as a place to take a break and grab your morning coffee or your afternoon wrap. Wired serves breakfast, lunch and coffee, so stop in to see what it's all about!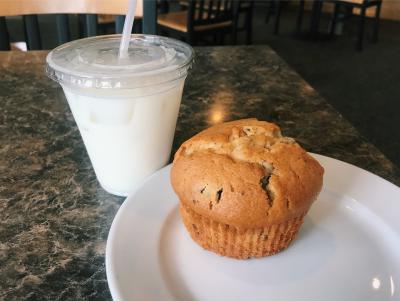 For cafe-dwellers or those on-the-go:
In need of a major caffeine boost on this specific day, I decided to make a stop at Meg's Daily Grind. Family-owned and operated, Meg's has an inviting cafe to sit and enjoy your drink as well as a convenient drive-thru if you're on the go! I ordered an iced White Zombie with a blueberry muffin as well. A White Zombie? Some of you may be quite confused .. A White Zombie is made from only slightly roasted white coffee beans. This delivers an extra jolt of caffeine and a hint of nuttiness into each cup, and it doesn't stain your teeth either! Meg's also adds vanilla which results in this drink tasting exactly like smooth vanilla bean ice cream. If you're looking for something sweet to wake you up, this drink is for you!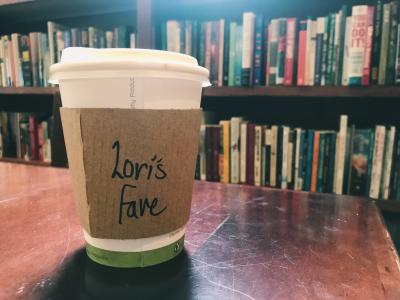 If you'd like to enjoy books or a game as well:
On a gloomy day in late May (yes, the IL weather has been all over the place this year …), a few of us from the office decided to go visit my last stop -- Katie's Cup! This coffee shop was the perfect place to warm up with coffee. Full of tables, couches, books, and board games, the shop's environment was warm and inviting. With the barista's help, I chose to order "Lori's Fav" under their signature drink menu. Lori's Fav is an Americano, half & half, with two pumps of sugar-free caramel. You can order any drink from their menu either hot or cold, but today called for something hot to warm me up, and that's exactly what Lori's Fav did. Besides the coffee, a few facts about Katie's Cup also pleasantly surprised me ... Katie's Cup is a not-for-profit company and is also known for being one of the greenest buildings in Rockford. Solar panels heat 50% of the building's water; the carpet is recycled carpet; the tiles are recycled glass; and the wooden floors are bamboo. Come check out Katie's Cup for a taste of "coffee, conversation, and community."