As a college student, trips home are always the best. I get to see my family again, relax, and I'm back in the 815. I recently got to come home for Easter weekend, and one of my favorite people to hang out with (my mom) and I decided to check out Rock Cut State Park. Neither of us had been there despite being lifelong citizens of the Rockford area, and let me tell you, we have been missing out.I don't want anyone else to miss this opportunity, so I made sure to whip up a blog post about it ASAP.
First of all, we often think we have to drive up to Wisconsin to have a nice day by the lake. We found out there's a beautiful, large lake right in our backyard at Rock Cut. On the beautiful sunny day we were visiting, there were so many people kayaking, throwing frisbees, and picnicking by the lake. It really felt like we were in a completely different destination, and I immediately felt like I was on vacation. There are actually two lakes at the park, the largest and main lake being Pierce Lake, and the smaller, Olson Lake. Once the weather gets warmer (and stays warmer), you can take the family out to swim at Olson Lake (please note that swimming and wading aren't allowed at Pierce Lake). There is a small entrance fee of $5 a person over 4 feet, $2.50 for anyone under 4 feet, and entrance is free for kids 3 years and younger.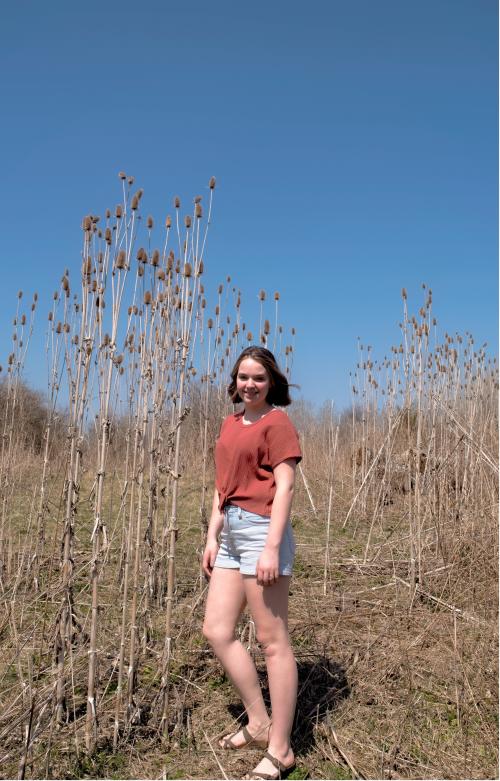 (Photo Credit to Kate Gronewold who snapped this quick pic of me enjoying the trails.)
One of my favorite things to do in the summer is hammock. If you've also caught onto this trend and are as hooked as I am, Rock Cut should be your next spot to HANG out (I crack myself up). Whether you find a spot in the wooded area or hang your hammock between some trees along the walking paths, you're sure to have a relaxing time and enjoy the sunshine. My mom is a photographer, so one of her favorite things to do in the summer is take pictures of all the wildlife that's returned to Illinois. There were plenty of spots she's planning on going back to soon to snap some photos, so whether you're just taking in the views or capturing them in a photo, there are so many opportunities at Rock Cut.
There are plenty of paved and unpaved walking paths at the park, and dogs are allowed as long as they're on a leash! I recommend taking a nice long walk with a loved one and enjoying the view that will make you feel far from the bright lights of our beloved city. Overall, there is so much to do at the park for all ages and interests (not mentioned above was boating, fishing, camping, and so much more). Please don't wait any longer and go take a look for yourself.
Check out the hours and regulations for Rock Cut State Park here.