Recently, a few of us from the office went out to dinner at Mexico Clasico to hear local musician Vince Chiarelli and his band perform. I had actually never heard of the restaurant before, but I wanted to give it a try because I enjoy Mexican food.
Since I had never heard of it, I thought the restaurant was going to be a small, cozy place for some reason...but boy was I wrong! I drove up to the building and was surprised at how large it was! Inside there are several expansive dining rooms with long, colorfully painted tables and chairs set up. Even the band had plenty of room to set up and play with all of the tables in place.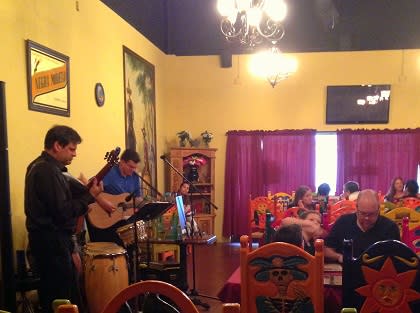 I had to spend a few minutes looking over the menu because there were so many options. And the problem for me was that everything sounded delicious! I ended up ordering the cheese Enchiladas Mexicanas. While waiting for our food, we munched on the chips and salsa set on our table. The chips were light and crunchy and the salsa had just the right amount of kick, but not enough to make me guzzle down my water because of it being too spicy.
Word of advice when you try out Mexico Clasico: don't eat too many chips and salsa, because you get a large amount of food with the meal! My entre came with three enchiladas (hidden under the lettuce and tomato salad in the photo) and sides of rice and refried beans. The cheese in the enchiladas was perfectly melted, and the light salad served on top was a nice balance to the richness of the enchiladas and sides.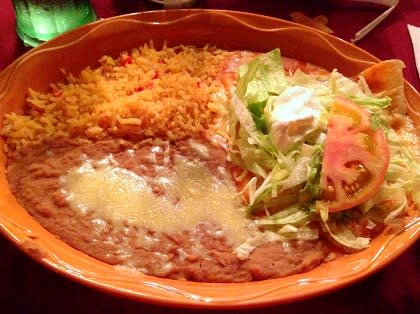 Along with the delicious food, the whole atmosphere (including the wonderful music by Vince!) made for a great dining experience. I will definitely be back to Mexico Clasico!
Mexico Clasico is located at 3929 Broadway in Rockford. Visit their website at www.mexicoclasicorockford.com to see their menu and hours.