Spring is in full swing and is bustling with colorful flowers and budding leaves. If you're like me, finding time to clean out your flower beds and fill them with plants can seem daunting. However, if you put in the time and effort now, you can enjoy fairly low maintenance flower beds throughout what is sure to be a busy summer.
First Step
The first step to beautiful flower beds is always the worst...the cleanup. Rake out your beds, prune back last year's perennial stalks and generally "fluff" stuff. Once the cleanup is done, you will be able to assess what you have and plan for what you need. To keep your flower beds low maintenance, consider incorporating potted annuals that don't require deadheading. A decorative garden accessory such as a bird bath or spinner also makes nice fillers. Most importantly, be sure you have plenty of mulch. Mulch will help your plants retain moisture without a lot of watering and will greatly reduce the amount of time you will spend weeding.
Get Inspired
Looking to get inspired? Rockford is home to several beautiful outdoor gardens such as Anderson Japanese Gardens, Klehm Arboretum & Botanic Garden, La Paloma Gardens, and Nicholas Conservatory & Gardens. Just one look at any one of these spectacular locations will give you the motivation to make your own yard look just as beautiful.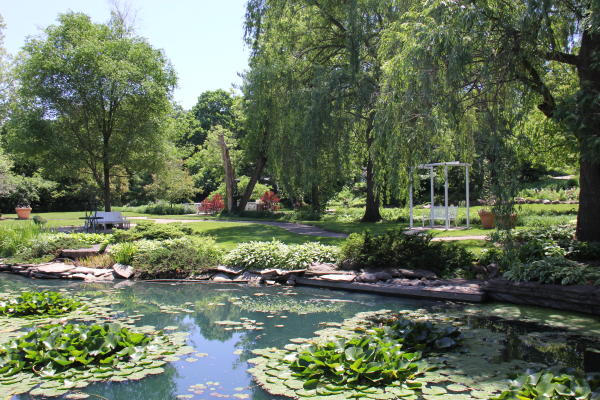 Not sure where to start or what particular plants would do well in your yard with the least amount of care? Visit a local garden center and ask for help. Below are some great options in the Rockford area.
Garden Centers
Gensler Gardens
102 Orth Road (Loves Park) - 815.885.1765
8631 11th Street (Davis Junction) - 815.874.9634
The Landscape Connection
7295 Harrison Road (Rockford) - 815.874.8733
Meridian Nursery
7219 Cunningham Road (Rockford) - 815.965.1239
Pepper Creek
7295 Harrison Road (Rockford) - 815.332.2103
Rock Valley Garden Center
785 N. Bell School Road (Rockford) - 815.398.1937
Village Green - Riverside Patio Showrooms & Garden Center
6101 E. Riverside Boulevard (Rockford) - 815.877.9559
Village Green - North Main Greenhouses & Garden Center
2640 N. Main Street (Rockford) - 815.877.7027