Stroll on State, presented by Illinois Bank and Trust, is quickly approaching! Yay! Save the date for Saturday, November 27 in downtown Rockford and don't miss out on these top 9 attractions for year nine of Stroll!
1. Three Tree Lightings & Stages
One of the most popular moments of years past – the Tree Lighting Ceremony! And this year we will have three of them at three different locations and at three different times, allowing you to space out and even let your kiddos watch one (before bedtime!).
At 5 p.m. a tree lighting ceremony will take place at the Silver Bell Tree and Stage at Eddie Green Place on the corner of 1st and E. State St.
Then at 6 p.m. the Rockford City Tree, sponsored by the Northwestern Illinois Building Trades, will be lighted at Davis Park.
Finally, at 7 p.m. the third tree lighting will take place at the Jingle Bell Tree and Stage at the corner of N. Main. St. and Mulberry St.
Hosting three tree lighting ceremonies allows for crowds to be better spread out – rather than all together for one ceremony, avoiding what has traditionally been the largest concentration of guests gathered during Stroll.
Each stage will host a holiday storytime reading, a visit from Santa, live music and tree lighting.
2. Fireworks – New Time and Location
Sky Lights Fireworks, presented by Pierce Distribution, will once again light up the skies of downtown Rockford except this time they will be launched from the Jefferson Street Bridge at 8 p.m. Viewers will be able to see the fireworks from anywhere in the festival if they can see the Jefferson Street Bridge. This change will allow for more spacing while the skies burst with color.
3. Davis Park will be Fully Festive
The most beautiful tree in the Rockford region, the Rockford City Tree, sponsored by the Northwestern Illinois Building Trades, will be lighted in Davis Park at 6 p.m. Gather with friends and family and enjoy the magical moment while coming together as a community.
Elsewhere in the park, there will be a stage with performances, hot chocolate and s'mores, fire pits and adult beverages. There will even be a special appearance with Ana and Kristof with their special reindeer friends.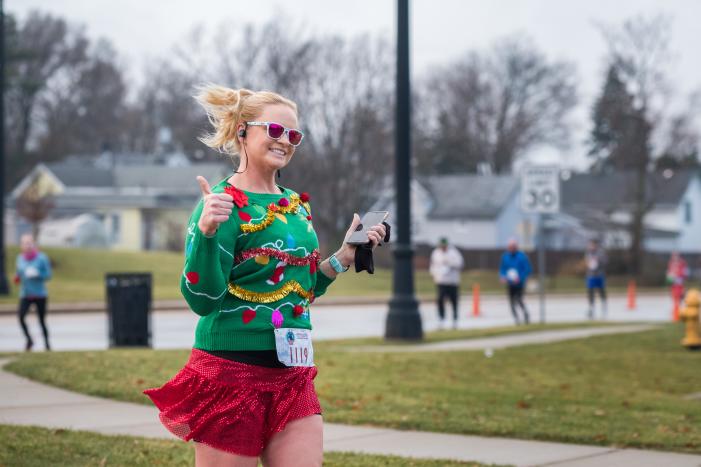 4. Stroll's Parade and Dasher Dash Return
Stroll on State's Holiday Parade, sponsored by The Power Connection – IBEW 364 & NECA steps off on S. Main Street at Chestnut Street at 2 p.m. and will move north to State Street then east across the State Street Bridge, ending at 3rd Street. Parade onlookers are encouraged to find a spot along the route starting at 1 p.m. The parade will feature eight large-scale holiday-themed and character balloons including Frosty the Snowman and Butterscotch, several festive floats, live music DJs, and a few extra surprises are expected – including Santa & Mrs. Claus' official arrival in Rockford for the holidays.
The Dasher Dash 5K is also back again this year on Saturday, November 27 at 12 PM. The holiday themed run/walk takes place in downtown Rockford and will start and end near Davis Park. To learn more and register, click here.
5. Letters to Santa
During Stroll, your favorite group of elves will be back at Rockford City Hall to collect letters and give them to Santa! Sponsored by FurstStaffing, kids can write a letter to Santa, decorate the paper and mail it on-site to the North Pole.
In addition to inside City Hall, there will also be three outside locations throughout the festival to mail your letter to Santa. Those locations can be found outside City Hall, near the Davis Park City Tree and at JS Social Café.
6. Free Ice Skating at BMO Harris Bank Center
Take a break from strolling the grounds and lace up some ice skates at the BMO Harris Bank Center – on the IceHogs' new home ice rink – put on by the Rockford Park District and the Rockford IceHogs. Ice skates available free of charge.
Additionally, there will be street hockey provided by the Chicago Blackhawks Foundation along with family-friendly activities powered by the Rockford Park District in the lot outside of the BMO Harris Bank Center.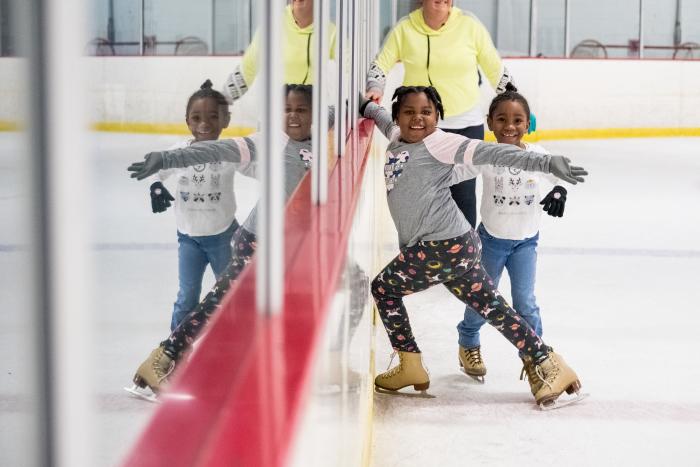 7. Rockford Dance Company will Dazzle the Crowd
Rockford's local talent will appear inside the Nordlof Center with various showtimes from 2 - 9 p.m. Intended for all ages, performers will give a sneak peek of their 2021 production of the Nutcracker. Do not miss this opportunity to take a moment inside out of the weather and appreciate all the local talent in the area.
8. Blitzen's Ball, a Character Dance Party for Kids
From princesses to heroes and everything in between this dance party is produced by Forest City Fairytale Company and will take place inside Stewart Square. Kids and families are invited to make fun memories together throughout the day (2 – 9 p.m.) at this new Stroll event.
9. Horse & Wagon Rides, Ice Sculpting and More
There's nothing more nostalgic than seeing a horse & wagon roll through downtown Rockford! Sponsored by Amazon, Horse & Wagon rides will take place one again this year. There will be one continuous loop on the west side of the Rock River with pick up and drop off locations near the corner of Wyman and Elm Streets.
Lastly, don't forget to stop by and see Randy Finch and the Ice Brigades, sponsored by OSF HealthCare. The popular Fire & Ice will wow crowds again as blocks of ice dissolve into beautiful bonfires that create an enchanting display at the corner of East State Street and N. 2nd Street, as well as outside of Veterans Memorial Hall.
To learn more, visit www.strollonstate.com. We can't wait to celebrate the holiday season with you on November 27 in downtown Rockford!