Moving Forward - On Arrival
A first-generation American whose family immigrated from Honduras, Osyria Webster was born in Marrero, Louisiana, just west of New Orleans. In her youth, she spent summers in Honduras, relishing the company of her mother, grandparents, aunts, uncles, and cousins - despite the lack of electricity or running water.
"We know what it's like to rough it in our family," she said, fondly remembering the idyllic oceanside days of her childhood. Back in the States during the school year, Osyria was a straight-A student. Her mother encouraged her to study hard. Her father encouraged her to go to medical school.
"I just want to be able to call you Doctor," he often said.
"Of course I wanted to please my Daddy," said Osyria. "Who doesn't? But the problem was, I really wanted to be an engineer, not a doctor. My brother and cousins went to robotics camp, and I didn't – I was told to let the boys be engineers. That was annoying, but it was just the way things were. I thought, 'well, let's make Daddy proud.' After graduating from Xavier University of Louisiana with a bachelor's degree in Biology, I enrolled in the College of Dentistry at the University of Tennessee Health Science Center."
There was a lot of living - and a lot of hard work over the years between the beginning of Osyria's undergraduate studies to becoming a dentist - and then making the hard decision that her life needed to take a different path. A series of life events put Osyria in a reflective frame of mind.
"I found myself having some pretty introspective moments," she said. "I kept asking myself whether I was really happy, truly happy in my life. The answer was 'not as happy as I thought I deserved to be.' And I knew what was missing. The answer had always been there: Engineering."
Osyria wanted to return to the original academic passion from which she felt marginalized as a little girl. She wanted a new life in which she could use her formidable math and problem-solving skills to build things. Next stop: the University of New Orleans Department of Electrical and Computer Engineering, from which she graduated with a degree in Electrical Engineering in 2017.
One of just two female electrical engineering students in her class, and one of only a handful of Black students, she fought her way through to her third post-secondary degree and a new career with Ingall's Shipbuilding in Pascagoula, MS before graduating.
It wasn't long after that, while attending a 2017 National Society of Black Engineers regional conference in Tulsa, OK, that officials of Rockford's Collins Aerospace met Osyria and began the process of recruiting her to help design and build the aircraft and spacecraft of the future. Osyria wanted the job, but she also wanted to involve her teenage daughter, Oriana, in the process of deciding whether they would make the move from their home in Louisiana to a new one in northern Illinois.
"Oriana, my daughter, is very detail-oriented. So, I decided to ask her to do all the research and decide if we would move, where we would live and where she would go to school. Moving was going to be more disruptive to her as a high school student than to me as an adult, so I wanted her to help make the decisions." said Osyria.
Collins was a big 'yes' for Osyria, but she wanted the Rockford Region to be a big 'yes' for her daughter, too. And it was. Oriana made the decision to enroll in the Gifted Academy at Rockford's Auburn High School.
"Oriana says moving to the Rockford Region was the best decision we ever made," said Osyria. "I'm very proud of her. She has been active in the Model United Nations, she volunteers, and this spring, she will graduate as a member of the National Honor Society. Best of all, she has been accepted into Smith College, her school of choice. She has amazing friends here and absolutely loves Auburn High School."
"For me, the diversity of Auburn has been wonderful. It's like a little slice of the world. You would be amazed by how many countries students come from. And the teachers are awesome. I'm still in touch with the ones I had as a Freshman in my Senior year," said Oriana, proudly. "They really care about us."
Osyria says her daughter's only complaint is that Mom doesn't check her grades often enough.
"What's to check," Osyria joked? "Oriana is an A-student. There's no mystery to that. Also, I have to worry about my own grades!"
Would it surprise you to know that on the heels of leaving one demanding profession to return to school to enter another - and moving from the south to the upper Midwest - Osyria decided to pursue an MBA?
"It's not surprising to me," said Eric Cunningham, Executive Director, Military Programs at Collins Aerospace/Rockford where Osyria is employed. "She's going to graduate from Penn State with an MBA in the spring of 2022. That's just Osyria. She's a lifelong learner. She is a high-achieving individual who also cares about others in the community. Right after she arrived in Rockford, she helped establish a new educational program called STEM On The Rock at our Discovery Center children's museum. Nobody said, 'hey you should do this.' She and some friends in the National Society of Black Engineers just saw a need - and they fulfilled it."
"Rockford is the kind place where you are welcome to make a difference. And people will help you make a difference," said Osyria. "I love that about this community. And like Oriana said, I was surprised by and love the diversity here."
"Even within Collins Aerospace itself, Osyria is on the move," Cunningham added. "I think she appreciates being part of a big global company with lots of headroom for advancement and exciting, challenging projects to work on."
Osyria agreed with that sentiment, saying "I'm very proud to work at Collins. Our solutions are on all kinds of aircraft, nose to tail. I was on a program called P804, which was a project between us and Pratt & Whitney/Quebec to develop a hybrid-electric airplane. However, the business had to make changes due to Covid. As Electric Power Systems in Rockford launches a fourth value stream focused on propulsion electrification, I Iook forward to seeing what types of testing will eventually happen in The Grid, our ground-breaking electric propulsion test lab right here at our Harrison Avenue facility. It's so cool to be on projects like that. Truly, we're developing the future of air travel right here in Rockford, right now. That is a dream come true for engineers."
What advice would Osyria give others considering a move to Rockford?
"Well, I think it's a great place for families. The affordable cost-of-living allows you to have extra money to do things and create experiences. Like traveling; we have definitely done a lot of traveling. I visit Roatán to see my family at least once a year, sometimes more - because I can afford to. We have also visited other states here in the US. Living here, we have easy access to places like Chicago and Madison - and those visits are fun. So, I'd suggest people take advantage of those things and then branch out, because this region has so much to offer. We're always discovering something new."
"Oh! One other thing," Osyria added. "The food scene here is awesome. Be prepared to go out to eat a lot!"
These days the thing that puts Osyria in a reflective frame of mind is another reflection of her character; she misses her father. Erskine R. Webster I passed away in the spring of 2019.
"I know Daddy was proud of me. And I'm proud that I was able to fulfill his wish," she said. "But I miss his presence in my life so much. And I wish he was here to share my pride in his granddaughter. He would be just as proud of Oriana as I am - and as he was of me. And I know how much he would enjoy hearing about all these amazing aircraft we're working on at Collins."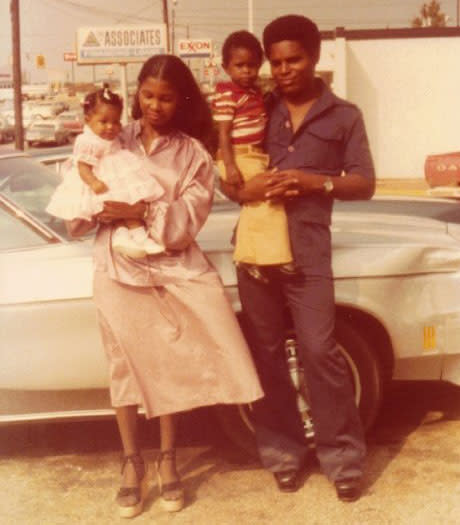 Osyria Webster, her mother Sandra, brother Erskine II & father Erskine I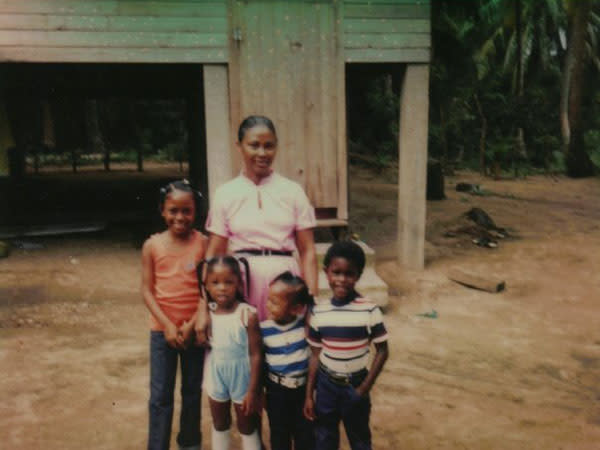 Maternal grandmother Iris Rivers, aunt Sharlynn Bush-Vinnett, Osyria Webster, cousin Joni Flowers-Moore and brother Erskine Webster II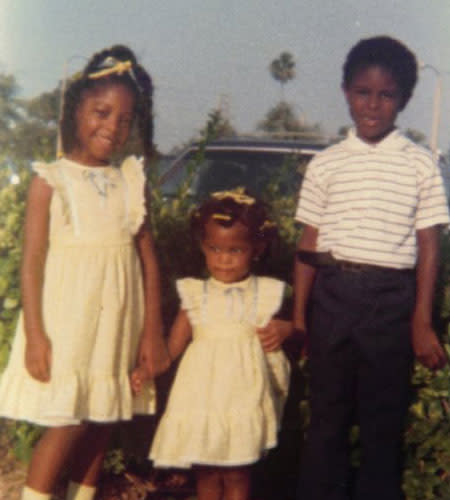 Osyria Webster, sister Onyria Webster and brother Erskine Webster II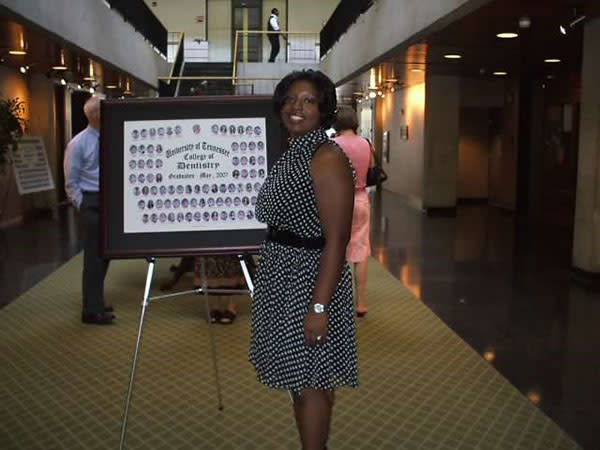 Graduation Day at College of Dentistry at the University of Tennessee Health Science Center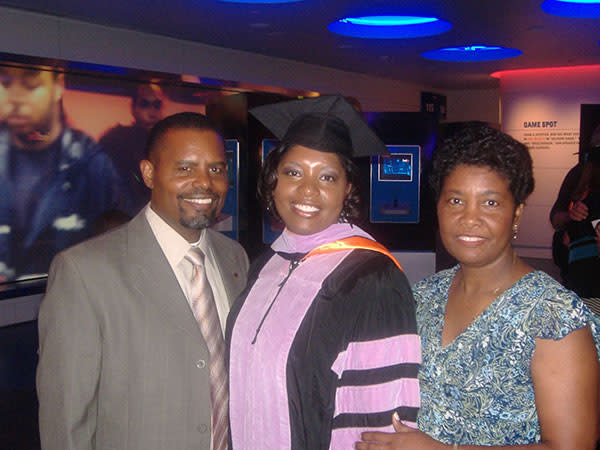 Father Erskine I, Osyria and mother Sandra Webster on Graduation Day at the University of Tennessee Health Science Center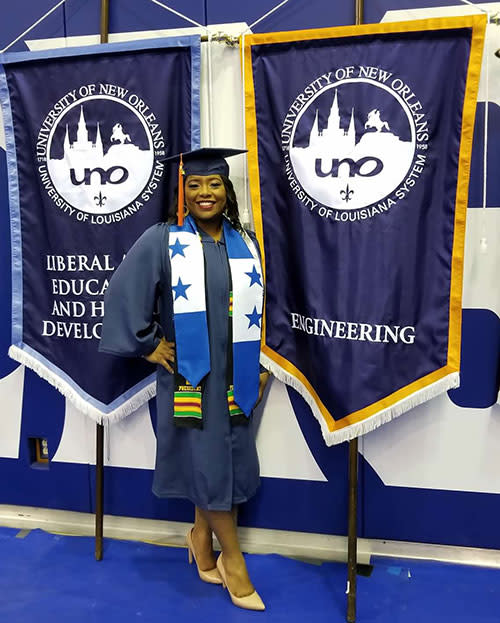 Osyria celebrates graduation from the University of New Orleans Department of Electrical and Computer Engineering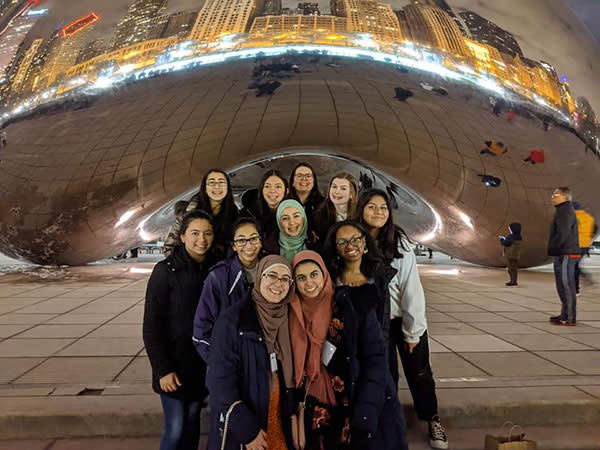 Oriana Taylor and Model UN classmates visit The Bean in Millennium Park, Chicago